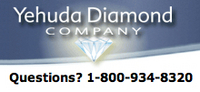 The process of enhancing an emerald or a diamond is a common trade practice used by jewelers to provide consumers comparable gems at a more attractive price
New York, NY (PRWEB) December 2, 2008
Yehuda Diamonds filed a federal lawsuit seeking to require Blue Nile, Inc., which claims to be the world's largest online retailer of certified diamonds and fine jewelry, to offer a full and complete refund to any Blue Nile customers who wish to return emeralds or emerald jewelry items purchased from the company. The complaint, "Diascience Corp. dba Yehuda Diamond Company and John Does. nos. 1-10, vs. Blue Nile Inc.", was filed November 12th in U.S. District Court for the Southern District of New York (Court Case #08CV9751). Blue Nile shares are listed on the NASDAQ.
Specifically, the civil complaint alleges that without notifying consumers, Blue Nile sold emeralds (including emerald-containing jewelry) that have been filled with oil, wax, resin or other substances to enhance their appearance.
Such filled emeralds are far less valuable than non-enhanced emeralds, rely on an enhancement process that is not permanent, and typically require special care when cleaning - facts that Blue Nile did not disclose to its customers, according to the complaint.
The suit contends that Blue Nile's deliberate withholding of information was contrary to the Federal Trade Commission's disclosure requirements for enhanced gemstones, as described in a manual for jewelers produced by the American Gem Trade Association (AGTA).
Yehuda Diamonds, a competitor of Blue Nile in the online jewelry business, brought the legal action and filed its complaint on behalf of unnamed individuals who purchased enhanced emeralds through Blue Nile's website. The lawsuit accuses Blue Nile of using false advertising and deceptive business practices.
The information that Blue Nile withheld, the suit contends, is "material to a consumer's decision to purchase a gemstone or gemstone-containing jewelry." As such, the suit asks the court to order Blue Nile to cease making false and misleading statements and to offer a full and complete refund to any consumers who wish to return emeralds or emerald jewelry items purchased from Blue Nile.
"The process of enhancing an emerald or a diamond is a common trade practice used by jewelers to provide consumers comparable gems at a more attractive price," says Dror Yehuda, president of Yehuda Diamonds. "The issue arises when retailers, such as Blue Nile, fail to adequately inform their customers that the gems or jewelry items they are purchasing have been treated."
Yehuda Diamonds has earned widespread industry and consumer loyalty selling clarity-enhanced diamonds exclusively through a network of respected 'bricks-and-mortar' retail jewelers. Customers interested in purchasing Yehuda Diamonds order them online, but actually go to an independent local jewelry store to view the gems prior to purchase and receive personalized customer service.
The proprietary Yehuda Diamonds enhancement process is spelled out by the jewelers and detailed conspicuously throughout Yehuda Diamonds' popular web site.
By contrast, Blue Nile sells its emeralds and emerald containing jewelry strictly online and directly to consumers. According to the lawsuit, Blue Nile's web site made no mention of using fillers to enhance the appearance of its emeralds and since the sale is direct to consumers, there typically isn't a jeweler who can make certain Blue Nile customers understand that they are purchasing gems that are filled.
Included as an exhibit in the complaint against Blue Nile are copies of Gemological Institute of America (GIA) reports confirming that emeralds sold in September 2008 by Blue Nile contain "moderate clarity enhancement."
However, according to the lawsuit, "the only enhancement method disclosed by Blue Nile on its website, with respect to gemstones (including emeralds), is heating."
Since the lawsuit was filed against it, Blue Nile has updated its web site to confirm that it is selling filled emeralds.
"We appreciate that under legal pressure from us Blue Nile sees fit to do right by its customers," Yehuda said. "However, we plan to continue on with our case which seeks corrective action for its past misdeeds and to make certain that Blue Nile is required to make full disclosure going forward."
Yehuda Diamonds has been outspoken on behalf of consumers and their right to know exactly what they are purchasing and how their available alternatives compare on a range of attributes, including quality, price, enhancement process and warranty.
Full details on the many advantages of Yehuda clarity-enhanced diamonds, which include a lifetime guarantee, are available at http://www.yehuda.com. In addition, the Yehuda Diamonds web site explains why it encourages consumers to always visit an affiliated local jeweler and personally examine Yehuda Diamonds before they buy. There is never any cost, obligation or sales pressure applied to consumers considering a Yehuda Diamonds purchase.
Contact:
Dror Yehuda
Yehuda Diamonds Company
212-221-5985
###