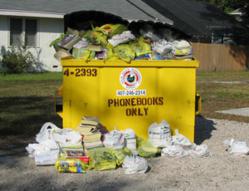 The success of both the YPGG.org website and Apps can be, in no small part, attributed to the decline of traditional print media, up to and including print phone directories
East Northport, NY (PRWEB) September 19, 2012
YellowPagesGoesGreen.org, (YPGG.org) a massive Yellow Pages business directory website at the forefront of the environmentally-conscious "Green "movement, is proud to announce their successful entry into the Smartphone market with the launch of free, in-house developed Applications ("Apps") for the iPhone and Android platforms, both of whom have been embraced by the Smartphone community.
Encompassing over 28.5 million business listings in the United States and over 1.2 million in Canada, which cover every conceivable type of service and consumer need, the YPGG.org App literally takes the extensive features of the online website and bestows them upon Smartphone users, giving them the very same abilities while on-the-go. Available now for free download both from Apple's App Store and Google Play, the new iPhone and Android Apps have ushered in a new era of convenience when it comes to both locating business listings, or creating your own.
YPGG.org entering the Smartphone App market, given its immense popularity, was clearly a natural evolution of its business model, in addition to its environmentally-friendly message of eschewing wasteful paper in favor of digital content delivery. Given the vast market saturation of the Smartphone industry into the everyday lives of its users, YPGG.org has made it a priority to become the App of choice.
The numbers make everything clear: the Apple App Store first opened in April of 2003, and as of June, 2012, there are over 700,000 third-party Applications available for download for users of the iPod Touch, iPhone, and iPad, with over 30 billion Apps downloaded since June, 2012. Google Play (formerly Android Market) launched in October of 2008, and as of June, 2012 offers 650,000 third-party Applications for users of digital devices that utilize the Android operating system, including Smartphones and tablet computers. Over 20 billion Apps have been downloaded from Google Play as of June, 2012.
Users of the YPGG.org App can easily and seamlessly search and review business listings of both the United States and Canada, quickly and easily discovering the right service or merchant to fulfill their needs. In addition, business owners can add and manage their own personalized directory listings, becoming a part of a vast network visited by thousands of potential customers every single day.
"The success of both the YPGG.org website and App can be, in no small part, attributed to the decline of traditional print media, up to and including print phone directories." said CEO Michael Keegan. One reason consumers are turning away from print directories in favor of online ones such as YPGG.org to help reduce man's destructive footprint on the environment of our planet. The degree that society consumes and destroys our forests in the name of paper consumption is alarming, especially in light of the following statistics released by technology blog Techsoup.org:

Every year enough paper is thrown away to make a 12' wall from New York to California.
The amount of wood and paper we throw away is enough to heat 50 million homes for 20 years.
It takes one 15-year old tree to produce half a box of paper
Clearly, the print phone book directory industry is paramount in the issues we face in terms of the slow destruction of the environment. But another reason consumers have been doing online is the speed and versatility of digital content delivery. Whereas print directories remain static from the second they are printed to the time they reach the landfill, YPGG.org digital listings are always updated with the most current information, all of the time. It's this advantage that has spelled doom for the print industry, as pointed out by countless journalists and industry analysts.
According to Webpronews.com: "It looks as if the [print] Yellow Page industry is back on its heels. Bankruptcies and overall trashing of the medium for sales tactics, coupled with an antiquated perception by consumers and marketers alike has the industry on the ropes."
The Wall Street Journal points out how the print phone book industry has been hemorrhaging money for years: "U.S. spending on print Yellow Pages advertisements has been on a steep slide. Last year it totaled $8.6 billion, down 40% from a peak of $14.2 billion in 2005."
Declining profits in the print directory industry are resulting in rampant turmoil and job instability, according to Searchengineland.com: "The decline of print income is still impacting them each year, and there were continued layoffs of employees from both SuperMedia (the post-Chapt 11 name of Verizon's YP) and DexOne (the post-Chapt 11 name of R.H. Donnelley) after they emerged from Chapter11."
For consumers who take both environmentalism and convenient, up-to-date information seriously, there's really only one answer- forgo antiquated, inefficient, and wasteful print phone directories and embrace YPGG.org both in web and App formats, keeping the solution to your business needs both cutting-edge and green at the same time.
About YPGG
Yellow Pages Directory Inc., owner of both YellowPagesGoesGreen.org andPaperlessPetition.org, offers an environmentally-friendly Web-based alternative to paper telephone directories while providing a simple and convenient mechanism for customers to opt out from the receipt of printed yellow books. Both web sites have been instrumental in promoting opt-out awareness across the United States over the past several years, and allowing users to reduce their own environmental footprints in the process. Yellow Pages Directory Inc. has also taken steps to reduce its own impact on the environment through the use of the most up-to-date and energy-efficient web-hosting services available.
For more information please visit: http://www.yellowpagesgoesgreen.org