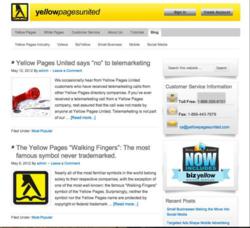 Providing a new source of quality information through our blog is one more way we can help educate our clients on how to maximize the returns on their Yellow Pages United listings
Jacksonville, FL (PRWEB) September 13, 2012
Yellow Pages United, an independent publisher of an online directory, has launched a new blog to help its small business customers make the most of their business listings and their presence on the web. The blog features articles on Yellow Pages United's portfolio of small business tools, including topics such as:

Video tutorials on how to set up a BizYellow online business listing page
Yellow Pages United news, events and promotions via RSS feed.
• Yellow Pages industry news
Articles posted on the blog also offer a wealth of information about how to use the latest powerful social media tools, helping small business owners take advantage of the broad reach of Facebook, Twitter, Pinterest and more. Tips range from how to gain and sustain a loyal customer base via social media to mobile usage trends.
Having recently discontinued its printed directory,Yellow Pages United now focuses its investment exclusively on expanding its own online offering. This includes not only its online Yellow Pages Directory, but also business web pages that give customers new ways to connect to the marketplace. This strategy is also part of Yellow Pages United's commitment to providing a great online experience and new value for its customers.
"Providing a new source of quality information through our blog is one more way we can help educate our clients on how to maximize the returns on their Yellow Pages United listings," said Yellow Pages United owner Mark Smith. "The more instantly accessible features and services we can offer small business owners online, the more time they have to focus on doing business."
About Yellow Pages United
Established in 2000, Yellow Pages United's online directory has grown its database to more than 14 million business listings. The YellowPagesUnited.com Internet edition allows its subscribing members to have a featured listing on the web site, and provides all paid members a complimentary search engine-optimized business listing on BizYellow.com.