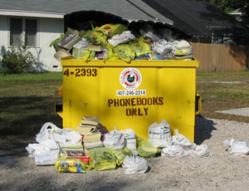 When it comes to "going green", everyone's opinion should be heard.
East Northport, NY (PRWEB) February 23, 2012
YellowPagesGoesGreen.org, a massive business directory website at the forefront of the environmentally-conscious "Green" movement, is pleased to announce an innovative new feature available to users of their service: the ability to add a custom description to business profiles on http://www.YellowPagesGoesGreen.org.
Yellow Pages Directory Inc. has also partnered with the Green Chamber of Commerce to encourage more local legislative initiatives aimed at stopping the proliferation of unwanted yellow pages directories. "Yellow Pages Directory Inc. supports a national "Opt-In" registry and believes opting out from receiving bulky, wasteful paper yellow pages directories is a great start, but the greatest environmental benefit won't be achieved until those who want to continue receiving paper telephone books are required to "opt in" said Chief Executive Officer Michael Keegan. "When it comes to "going green", everyone's opinion should be heard. To vote, simply visit our Yellow Pages homepage" he added.
Some of the features on the site are:

Print/Online Voting System
User Ratings and Voter System
User and Customer Comments
Comment Ratings (Likes)
Full Maps to Location
Driving Directions to Location
Custom Business Descriptions
Online Coupon System
Website Link Included
Dynamic Zip Code Finder
Search by Phone Number
Geo-Targeted User System
About Yellow Pages Directory Inc.
As owner of both YellowPagesGoesGreen.org and PaperlessPetition.org, the web sites offer an environmentally-friendly Web-based alternative to paper telephone directories while providing a simple and convenient mechanism for customers to opt out from the receipt of printed yellow books. Both web sites have been instrumental in promoting opt-out awareness across the United States over the past several years, and allowing users to reduce their own environmental footprints in the process. Yellow Pages Directory Inc. has also taken steps to reduce its own impact on the environment through the use of the most up-to-date and energy-efficient web-hosting services available.
For more information please visit http://www.yellowpagesgoesgreen.org.
###