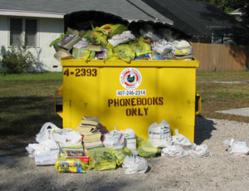 Opting-out from receiving bulky, wasteful paper yellow pages directories is a great start, but the greatest environmental benefit won't be achieved until those who want to continue receiving paper telephone books are required to opt-in
East Northport, NY (PRWEB) January 02, 2012
YellowPagesGoesGreen.org, owned by Yellow Pages Directory Inc., is pleased to announce several innovative new features available to users of the service. The service is an online yellow pages directory website aggressively supporting and promoting the environmentally-conscious "Green" movement.
Yellow Pages Directory Inc. has also partnered with the Green Chamber of Commerce to encourage more local legislative initiatives aimed at stopping the proliferation of unwanted yellow pages directories. "Yellow Pages Directory Inc. supports a national "Opt-In" registry and believes opting out from receiving bulky, wasteful paper yellow pages directories is a great start, but the greatest environmental benefit won't be achieved until those who want to continue receiving paper telephone books are required to "opt in" said Chief Executive Officer Michael Keegan. "When it comes to "going green", everyone's opinion should be heard. To vote, simply visit our Yellow Pages homepage" he added.
The latest features to be added to the online telephone directory service are:
1) Voting for Environment
The ability for users to vote on which informational format they make most use of in regards to accessing Yellow Page or similar business directory type services- outdated, environmentally unsound print, or clean and efficient online alternatives such as YellowPagesGoesGreen.org.
2) Business Driving Directions
Additional new features on the web site including driving directions showing how to get to a business once found add plenty to the user experience . Simply search for the business you seek and click for the listing details -- to the right of the listing you'll see not only a clear street map with the precise location of that business pinpointed but you will also find, just below the main listing details, "pre-filled" driving directions from your current location (as determined by the site) below the listing which can be expanded with one quick-click.
3) Rating the Ratings
Not only can users rate and review the individual business listings, but in turn their reviews can be rated by other users; a process similar to "liking" or "disliking" something on social media websites. This new ability of marking reviews as "Helpful" or "Not Helpful" increases the obvious inherent worth of a business review immediately for anyone visiting the site. Ratings will dynamically determine the placement of reviews in a tiered display system. In other words, more positively-received reviews rise to the top for the business' reviews, while more negatively-received reviews sink to the bottom.
About Yellow Pages Directory Inc.
As owner of both YellowPagesGoesGreen.org and PaperlessPetition.org, the web sites offer an environmentally-friendly Web-based alternative to paper telephone directories while providing a simple and convenient mechanism for customers to opt out from the receipt of printed yellow books. Both web sites have been instrumental in promoting opt-out awareness across the United States over the past several years, and allowing users to reduce their own environmental footprints in the process. Yellow Pages Directory Inc. has also taken steps to reduce its own impact on the environment through the use of the most up-to-date and energy-efficient web-hosting services available.
For more information please visit http://www.yellowpagesgoesgreen.org
###