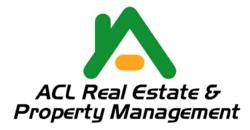 I strongly recommend ACL Property Management Services to those looking for outstanding real estate and property management service
(PRWEB) April 18, 2013
ACL Property Management offers five star services for property owners who don't have time and or don't want to deal with the hassle of working with all the pitfalls of tenant issues.
For many property owners, owning rentals as a way to supplement their income assist with funding their retirement makes sense on many different levels. One thing that may be hard to grasp is how to manage one or more properties while still keeping a day job.
Below is just one of the 5 star reviews on Yelp:
"I use ACL Property Management services for about 3 years now on multiple properties. I have used them as real estate agent to find quality income property, find good quality tenants and then used them as property manager as well. They were first recommended to me by a family friend and boy, am I glad that I chose them!"
"I have one word to say, EXCEPTIONAL! My interaction with them has been fantastic. The company representatives are extremely professional, knowledgeable, responsive, resourceful and trustworthy, all the qualities you absolutely need in a property manager."
"All my properties are rented out and have been occupied for all months except couple of months since I bought them when one of my tenants had to leave abruptly for a family situation. My tenants are quite happy with the property manager as any issues that arise get promptly taken care of. In addition to offering exceptional service, they are offering me the peace of mind that I as a busy professional crave for when owning multiple income properties. I have numerous examples where ACL folks have completely taken over any temporary tenant issue, followed up well, kept me informed at all times and resolved the issue in a timely manner."
"I strongly recommend ACL Property Management Services to those looking for outstanding real estate and property management service. For those who think they can do it themselves, I would say: Just give it go to ACL property management, your life as you know it will never be the same!"
ACL Real Estate and Property Management is a full service East Bay Area Brokerage that specializes in Selling and Managing Single Family/ Multi Family units. The Service Areas Include but not limited to: Alameda County, Contra Costa County, San Mateo County. Berkeley, Dublin, Livermore, Pleasanton, Oakland, Hayward, San Leandro, Castro Valley, Fremont, Sunnyvale, San Mateo, and many more locations.