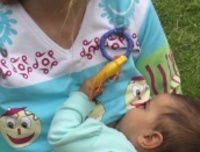 120 countries celebrate the World Breastfeeding Week from 1-7 August 2007 to raise awareness and support for breastfeeding
London, UK (PRWEB) August 1, 2007
Baby stimulation products supplier Yes! SuperBaby Ltd will celebrate the World Breastfeeding Week 2007 by launching a new nursing top which allows mothers to breastfeed in public in a discreet and comfortable way while at the same time stimulating baby's senses of vision and touch.
"120 countries celebrate the World Breastfeeding Week from 1-7 August 2007 to raise awareness and support for breastfeeding," said Susanne Chishti, Managing Director of Yes! SuperBaby, "and Yes! SuperBaby has launched a unique breastfeeding top in sizes small, medium and large to help mothers make breastfeeding more comfortable and private." Exclusive breastfeeding for the first six months of children's lives reduces the risk of developing several childhood illnesses including allergies and SIDS as breast milk is rich in antibodies.
The World Alliance for Breastfeeding Action (WABA) developed the World Breastfeeding Week to protect and promote breastfeeding on a global level. This year's theme, Breastfeeding: The 1st hour - Early initiation and exclusive breastfeeding for six months can save more than ONE million babies, emphasises the importance of initiating breastfeeding within the first hour of birth.
Yes! SuperBaby's new Nursing Top in the colours purple and pink has a private opening to allow for discreet and comfortable breastfeeding without either showing the mother's tummy or breast. The soft cotton of the top, textured straps and attachment rings promote tactile and visual stimulation for the child. Stimulation during feeding times is particularly appropriate for babies during their first few months, when feeding can take place between 4 to 8 times a day, sometimes for an hour each time. The shirt may also help to keep the baby awake and focused on feeding due to its vibrant and unique design.
The design is made up of face-like images and curved stripes. From birth, babies prefer to look at faces that engage them in a mutual gaze. It has been scientifically shown that their neural processing is enhanced as a result. As well, a baby fixates more readily on curved rather than straight lines and prefers stripes over single shaded areas.
Yes! Superbaby's founder and mother of two, Susanne Chishti, invented the concept of "functional" clothes and accessories to stimulate infants' development. It is a fresh new approach to the infant toy/pre-school industry focused on early years development with clothes a parent or carer can actually wear.
Besides of the Yes! SuperBaby Top, the company also sells multi-sensory music scarves and armbands which also can be put on by parents to stimulate babies' development. Both products play music, squeak and rattle and include convenient attachment features to add the baby's favourite toys. The benefits for parents mean easy bonding with the baby on their lap, multi-sensory stimulation and no more picking up of toys from dirty floor as they are conveniently attached.
For additional information on baby stimulation during feeds, play and travel or to purchase Yes! SuperBaby's products visit our website or email us.
About Yes! SuperBaby:
Yes! SuperBaby Ltd has identified a new method of infant stimulation designed to stimulate babies to explore the senses of vision, touch and sound. The vibrant Yes! SuperBaby™ Collection is worn by parents/carers to introduce their children to multiple shapes, numbers, letters, sounds and textures. Yes! SuperBaby Ltd was founded in 2006 by Susanne Chishti, a mother of two, who realized the strong need to stimulate and entertain a baby during the many hours when the little one is in the arms of the parent - and the startling lack in the marketplace of an easy-to-wear pack-and-travel way to do this for today's on the go parent.
Contact:
Susanne Chishti, Managing Director
Yes! SuperBaby Ltd
+44-20-8749-7733
http://www.yessuperbaby.com
YES! SUPERBABY is a trademark of Yes! SuperBaby Ltd.
© and Design Right 2006-2007. All rights reserved.
UK Patent Application Number 0702667.7
###