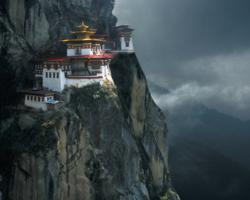 "Bhutan is one of the most fascinating country in the world, though still undiscovered and thats what makes it a special destination, just too special," says Melanie Marie Kania, a German citizen, who has never been to Bhutan
Thimphu, Bhutan (PRWEB) October 21, 2011
Bhutan, a small landlocked country somewhere between India and China, almost invisible in a world map, provokes images of an untouched, blissful, almost magical Shangri La in the minds of travellers who have heard something about this country.
A growing number of people also view it as an exclusive, off limits destination, meant only for the wealthy. This idea has been largely propagated as a result of misunderstanding Bhutan tourism - while it is true that tourists have to pay a daily tariff of USD 200 to be in this country, this includes all internal taxes and charges (including the royalty), accommodation, all meals, all travel with a licensed Bhutanese tour guide, all internal transport and camping equipment and haulage for trekking tours in the peak season- something that hopeful visitors are generally not told when they hear about this country.
One of the most exotic travel destinations today, a trip to Bhutan is well worth the tariff, though through well designed and planned Bhutan travel packages. A 72 percent forest cover in this country means that a traveller is treated to mountains and mountains adorned with emerald, home to a vast list of rare and endangered flora and fauna. Travelling through the highest passes, where the clouds hang low beneath the roads and glistening peaks rise out of nothingness, deep valleys roar with gushing white rivers, one finds that no praise of the beauty of this country has been exaggerated.
The recent Royal Wedding of the reigning monarch of Bhutan, Jigme Khesar Namgyel Wangchuck, son of the fourth king, was an example of everything that this country is. Religious and steeped in traditional ceremonies, the visually stunning wedding was a national affair, in which Bhutanese people participated actively, joining in the celebrations at various venues and congratulating their King and new Queen, who frequently traverse the kingdom speaking to the people, in person.
The people of Bhutan are known for their warmth and hospitality- another unembellished fact a traveller discovers upon visiting Bhutan. Towns are clustered in stunning valleys and are relatively modern- although even the capital, Thimphu, cannot be called a 'city', lacking as it does skyscrapers, or even traffic lights.
A large part of the population is deeply religious, and Bhutan is deeply rooted in its Buddhist heritage. Monasteries and temples abound, and it is common to find an exquisitely decorated, dark and quiet monastery, occupied only by a few monks, atop almost every hill.
The deep spiritual heritage of the nation also reflects in its national policies. A century old monarchy governed by widely loved and revered monarchs, Bhutan recently made a peaceful change into democracy, the fact which tourists love to discuss during their Bhutan travel.
A living legend of Bhutan, the fourth king Jigme Singye Wangchuck gave his people the gift of democracy- something they had neither asked for nor desired. He also gave the country, in the 1970s, it's unique measure of development- Gross National Happiness- the idea that true progress cannot be measured by GDP, and must factor in, instead, how much happier the people are as a result of development.
The country has, since then, attempted to incorporate this 'happiness philosophy' in all its policies, and has come up with factors that contribute to National Happiness (Conserving the environment, Good governance, Preserving cultural heritage and Sustainable economic growth).
Yetis & Dragons, the leading Bhutan travel company, has started a 5 continent tour starting from 1st November, 2011. The company officials will be visiting various countries, organising seminars, Stunning Photo & Video shows, to bring the mystical Bhutan closer to the people. This entire exercise is meant to educate the potential travellers, and the people around the globe about Bhutan tourism.
###