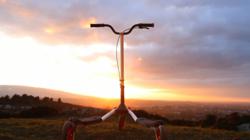 No pledge is too small in helping us achieve this goal
Dublin, Ireland (PRWEB) April 30, 2013
An international team of adventurists from Brazil, Ireland and the U.S. are taking on the challenge of a lifetime, and they are inviting fans to come along for the ride. This summer, three girls (and a guy) will Y Fliker Across America to raise money for children's charities. As they go cross country from Los Angeles to New York riding three-wheeled, self-propelling Y Fliker scooters, they will visit some of the most beautiful places in the country, face emotional and physical challenges, and meet fascinating people along the way.
To document and share this epic journey with fans as a web series, the team has started a Kickstarter campaign to raise money to cover camera equipment, storage facilities and all production costs. Backers will not only get to enjoy the experience, but based on their pledge, they'll also be rewarded by seeing their names in the credits of the Y Fliker Across America videos, giving the team various challenges (keeping it PG), and receiving one-of-a-kind photos and artwork, among other things.
"On this journey, we will cross scorching deserts, face an uphill climb through the Rocky Mountains, cover the Bread Basket of America, and navigate through the three largest cities in the U.S.," said Waneska Valois, a participant in the Y Fliker Across America challenge. "Our adventure promises blood, sweat (estimated five liters) and tears, and we need support to fund our web series so that we can share this incredible experience with the world."
Using only a Y Fliker, a non-motorized scooter, the team will cover 3,282 miles across 13 states in less than three months. This will require the team to go the distance of almost two marathons a day to complete their journey to New York.
In addition to documenting their journey, the team will accept challenges daily through Facebook (http://www.facebook.com/YFlikerAcrossAmerica), Twitter (@WhyweFliker) and other social media, which will become a part of the web-series. A challenge can be anything from visiting a specific location or experiencing local culture, to wearing a silly costume or filming in a specific language, to reenacting a favorite movie scene or recreating a popular music video.
With the Kickstarter campaign goal set at $15,000 and the May 22nd deadline quickly approaching, Valois urges potential backers, "Every dollar counts and every supporter becomes an integral part of our team. No pledge is too small in helping us achieve this goal."
To back the Y Fliker Across America web series, visit http://www.kickstarter.com/projects/499482197/yfliker-across-america-web-series
For more information about the Y Fliker Across America challenge, visit: http://www.YFlikerAcrossAmerica.com.