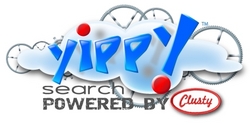 "We want to thank you for all the support that Yippy has received"
Fort Myers, FL (PRWEB) May 10, 2010
Yippy, Inc. "Yippy" formerly known as Cinnabar Ventures, Inc. ("Cinnabar") (OTCBB: CNBR) today announces corporate actions.
Corporate Action:
Yippy, Inc. is now the corporate name. The company name was recently changed with the Secretary of State: Nevada, Cinnabar Ventures, Inc. no longer exists. The company expects a name and symbol change shortly.
Sweeping changes across the company are underway. The goals for Yippy have changed. Media and software are the core products, hardware and data divisions have been put on hold.
The company has identified through 8K (04/09/10) that it is to acquire the asset Clusty.com, a consumer search program (clusty.com) which will be rebranded "Yippy" and a licensed copy of the program Velocity from Vivisimo (http://www.vivisimo.com ). Both parties have received a confirmation of funding for the purchase. Full details will be disclosed after the closing scheduled for 5/15/10.
Due to these asset acquisitions, and the dropping of all current projects in the hardware and data space the company is making the following changes to the leadership structure of the company. Rick Lisa understanding that the core mission has changed, gracefully and unselfishly resigned his position and contract to the company. Rick's participation was geared toward the hardware portion of the business plan. Frank Mambuca has been on a leave of absence from the board for the last several weeks. The reason for this is the breakdown of US Metro and Yippy negotiations. US Metro Tel will continue to serve Yippy as the primary data center. The company is very satisfied with US Metro Tel's level of service.
"The first six months of any new business venture are the most critical. I like to think of it as spring training. The level of commitment it takes to make the Yippy team is not for everyone. The staff works 12-18 hours a day 6 days a week. Each individual in this company is fully committed to the goals and objectives. The team self manages due to the entire staff being former managers of past development projects in technology," stated Richard Granville, CEO.
Granville continues, "Now that we have a razor sharp focus on combining Yippy and Clusty, the management has been slashing expenses across the board to make room for http://www.Clusty.com in our operational budget. By cutting all non-essential activities including IR, PR and management salaries, the burn rate has been significantly reduced which will allow the company to spend more on direct marketing and driving eyeballs to Yippy."
"Clusty.com currently has approximately 100,000 unique visitors, millions of search queries a month and a very solid Alexa ranking. The property has tremendous revenue potential with users valued in the neighborhood of $9-$12 per year. The combination of Yippy and Clusty makes the company a force in technology. Once the name and symbol are changed the company will begin the marketing campaign branding Yippy to the public," stated Granville.
Version 1.0 is now operating in demo mode. Frame breaking and other key faults have been fixed, and the program runs much faster than our current version. V1.0 allows for multiple browsers and search windows open simultaneously while having some of the same characteristics of V.90. V1.0 is OS agnostic for all Abode Flash enabled Personal Computers, Net Books, Laptops and PDAs including Linux and Ma. Expected launch date is June 2010.
About Yippy, Inc., formerly Cinnabar Ventures, Inc.:
Based in Fort Myers Florida, Yippy, Inc. formerly known as Cinnabar Ventures, Inc., http://www.yippy.com , is a new economy technology company that develops technologies and application services environments for both Consumer and Commercial market segments.
Forward-Looking Statements:
Pursuant to The Private Securities Litigation Reform Act of 1995: The statements in this press release that relate to the Company's expectations with regard to the future impact on the Company's results from new products in development are forward-looking statements within the meaning of the Private Securities Litigation Reform Act of 1995. These statements are subject to risks and uncertainties. Words such as "expects," "intends," "plans," "may," "could," "should," "anticipates," "likely," "believes" and words of similar import also identify forward-looking statements. Forward-looking statements are based on current facts and analyses and other information that are based on forecasts of future results, estimates of amounts not yet determined and assumptions of management. Readers are urged not to place undue reliance on the forward-looking statements, which speak only as of the date of this release since they involve known and unknown risks, uncertainties and other factors which are, in some cases, beyond our control and which could, and likely will, materially affect actual results, levels of activity, performance or achievements. We assume no obligation to publicly update or revise any forward-looking statements in order to reflect any event or circumstance that may arise after the date of this release, even if new information becomes available in the future. Additional information on risks and other factors that may affect the business and financial results of Yippy, Inc. can be found in the filings of Yippy, Inc. with the U.S. Securities and Exchange Commission.
###