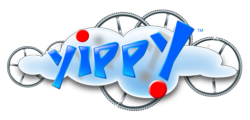 The response to Yippy at the trade show was overwhelming.
Fort Myers, FL (PRWEB) December 05, 2011
Yippy, Inc. (Pinksheets: YIPI) (http://www.yippy.com) ("Yippy" or the "Company"), providers of the world's fastest, family friendly educational search engine and web portal, reports today that in line with a previous public disclosure made on, September 12, 2011, the Company has been approved by FINRA and the 2 for 1 forward split which will take effect at the close of business today, December 5, 2011. The company's ticker symbol will have a "D" added for up to 20 days post-split.
The Company also closed a Bridge Financing Debt Agreement brokered through Aegis Capital Corp. for interim financing while the Company completes necessary audit. Upon competition of the audit the Company will make application for the OTCQX US for up listing.
"Since the close of ad:tech the Company has been engaged with several major brands and companies with regards to creating custom search engines specifically. The response to Yippy at the trade show was overwhelming and the amount of deals on the table is significant. Yippy had one of the busiest booths at the show, and by my estimation we had easily 3-4 times the traffic as the neighboring booth which was Bing.com. This custom search model has excited the marketplace and expect major deal closings shortly," stated Rich Granville, CEO, Yippy.
About Yippy, Inc.
Based in Fort Myers, Florida, Yippy, Inc. (http://www.yippy.com) is a new economy technology company that develops technologies and application services environments for both consumer and commercial market segments.
Forward-Looking Statements
Statements in this press release that relate to the Company's expectations with regard to the future impact on the Company's results from new products in development are forward-looking statements within the meaning of the Private Securities Litigation Reform Act of 1995. These statements are subject to risks and uncertainties. Words such as "expects," "intends," "plans," "may," "could," "should," "anticipates," "likely," "believes" and words of similar import also identify forward-looking statements. Forward-looking statements are based on current facts and analyses and other information that are based on forecasts of future results, estimates of amounts not yet determined and assumptions of management. Readers are urged not to place undue reliance on the forward-looking statements, which speak only as of the date of this release since they involve known and unknown risks, uncertainties and other factors which are, in some cases, beyond our control and which could, and likely will, materially affect actual results, levels of activity, performance or achievements. We assume no obligation to publicly update or revise any forward-looking statements in order to reflect any event or circumstance that may arise after the date of this release, even if new information becomes available in the future. Additional information on risks and other factors that may affect the business and financial results of Yippy, Inc. can be found in the filings of Yippy, Inc. on OTC Markets (http://www.otcmarkets.com).
Contact:
R. Granville
Investor Relations
Yippy, Inc.
1-877-YIPPY01
# # #