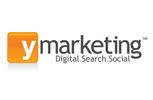 We are enthused with the conference's energy and hope to help our fellow Microsoft Partners win the web in 2011.
Costa Mesa, CA (PRWEB) July 12, 2011
Digital agency ymarketing is celebrating Microsoft's SoCal visit to its headquarters hometown in Los Angeles by offering all Microsoft Partners a free search scorecard and assessment. With 15,000+ Microsoft Partners descending upon Los Angeles Convention Center July 10-14 for the 2011 Worldwide Partner Conference, and ymarketing among them, the company said the timing was right to give away one of its digital agency consulting services for free.
"Listening to the Keynote and sessions the first day of the conference, we felt we needed to embrace the Microsoft Partner 'Winning Together' slogan in a meaningful way," said ymarketing Vice President of Business Development Donald Nosek. "We are enthused with the conference's energy and hope to help our fellow Microsoft Partners win the web in 2011."
The company also recently posted blogs outlining Bing's now 30% controlling market share of U.S. Searches, a prominent fact noted by Microsoft CEO Steve Ballmer in the conference's opening keynote presentation. Ymarketing has even called Bing "The Best Deal in Paid Search" and applauded Bing's SEO Webmaster Tools for recent feature updates. This Bing opportunity pointed out by ymarketing also was noticed by a national news article titled: "5 Reasons Why Microsoft & Bing Are Ready to Challenge Google for #1."
The Microsoft Partners Search Marketing announcement shows ymarketing's commitment to its fellow Microsoft Partners and underscores the company's strong belief in the opportunities Bing provides search marketers. The free scorecard and assessment offer is good through the month of July exclusively to Microsoft Partners.
About ymarketing:
Ymarketing is a Microsoft Partner Digital Marketing Agency that helps clients with SEM, PPC, Blog, Social Media, and other Digital Online Marketing. Headquartered in Orange County, ymarketing began as a search engine marketing agency and today focuses on ROI driven campaigns across the digital spectrum. ymarketing is a strategic partner for maximizing online marketing results by combining best-of-breed strategies and industry leading technologies: experience + technology.
Founded in 2002, ymarketing works with integrated online marketing programs including affiliate, display, email, natural search, paid search, blog and social media. The company utilizes best-of-breed web site analytical applications including Google Analytics, Omniture SiteCatalyst & WebTrends. Ymarketing is an Omniture Certified Professional, Google Qualified Company, Member of the SEO Consultants Directory (Search Industry Peer Review), a Microsoft adExcellence Member and a Yahoo! Search Marketing Ambassador.
About Microsoft's Digital Worldwide Partner Conference
The Microsoft Worldwide Partner Conference (WPC) is an annual gathering for the Microsoft partner community to learn about Microsoft's roadmap for the upcoming year, network and build connections, share best practices, experience the latest product innovations, and learn new skills and techniques. The Microsoft WPC week is anchored around keynote presentations from Microsoft's senior leaders; training sessions led by partners, Microsoft professionals, and industry leaders; and thousands of meetings responsible for many new business transactions. The 2011 conference visits Los Angeles from July 10-14.
###