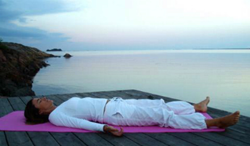 Orlando, Florida (PRWEB) April 22, 2014
The program is offered starting September 19th, 2014. Ayurveda is the ancient healing science from India, the medicinal side of Yoga. This course offers a wonderful opportunity to receive the techniques of Ayurveda body treatments with the ashram's staff. For more information please visit http://www.sivanandayogafarm.org.
The course curriculum includes the application of traditional oil massage (abhyanga), the technique of pouring oil over the forehead (shirodhara training), introducing oil into the nasal passages (nasya) and receiving a gentle heat therapy (svedana). These treatments provide deep detoxification, rejuvenation and allow for balance body, mind and spirit.
The Sivananda Ashram Yoga Farmprovides an immersion experience into the daily practices of a yogic lifestyle. More than just a yoga center, the Yoga Retreat offers teachings derived from the deeply-rooted Hatha Yoga traditions of a renowned lineage. All of the Ashram practices are geared toward the development of inner peace for a more harmonious world. Established by Swami Vishnudevananda in the name of Master Swami Sivananda, the Ashram presents a balanced experience of Raja Yoga, Karma Yoga, Bhakti Yoga and Jnana Yoga. The daily schedule includes meditation, pranayama (yogic breathing practices), asana (yoga postures) and study.
The Yoga Farm also hosts a Yoga Nidra course, courses on Yogic philosophy, Yoga for back pain and ayurvedic retreats, and an advanced teacher's training course (ATTC). The Advanced Yoga Teacher's Training Course helps graduates to deepen their spiritual practice and their study of Hatha yoga, Vedanta philosophy, Raja yoga, anatomy and Sanskrit. The advanced class gives students an additional chance to practice under guidance in a supportive atmosphere, which provides many with a boost of energy and clarity.
About Sivananda Ashram Yoga Farm
In 1971, Swami Vishnudevananda returned to California and founded the third ashram in the young Sivananda International organization: the Sivananda Ashram Yoga Farm on 40 acres of land located in the Gold Country of the beautiful Sierra Nevada Foothills in Northern California. The non-profit, non-sectarian ashram offers yoga classes, retreats and teacher training courses for students of all abilities. For more information, please visit http://www.sivanandayogafarm.org.
"Swami Sivananda of Rishikesh taught Yoga-Vedanta, which came to the West through his many disciples like Satchidananda, Vishnudevananda, Ventakeshananda and Jyotirmayananda. The Sivananda Yoga-Vedanta centers founded by Swami Vishnudevananda teach regular programs on Yoga-Vedanta and with references to Ayurveda as well. I have done many programs with this organization and find it to be the best Yoga training group in the west." -Dr. David Frawley