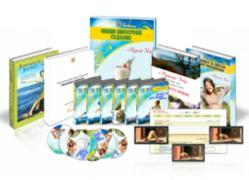 Dashama is an exquisite example of beauty, love, integrity, professionalism, health, inquisitiveness and yearning for learning that all of the future yoginis can strive for. - Mark Becker, CEO New York Magazine & New Life Expos
Los Angeles, California (PRWEB) December 12, 2012
Dashama, an internationally acclaimed Yoga Teacher, Author and Lifestyle Coach, launches sweepstakes with Sweepstakes Ninja. Entrants may win a yoga health and wellness prize package by participating in the free online sweepstakes through Sweepstakes Ninja.
Dashama has worked with Dr. Wayne Dyer (Self Help Author, Motivational Speaker), Louise Hay (Motivational Author, Founder of Hay House) and Jack Canfield (Chicken Soup for the Soul series of books) in the "Pillars of Success" Campaign. She is creator of the Kids Yoga DVD, has authored 5 DVDs, 2 books, and 3 Stage Energy Diet Programs, distributed nationally at such locations as Walmart and BestBuy. And she has also been fitness modelling since 2001, and has been a headlining performer, speaker, teacher and M.C. at one of the world's largest eco festivals called the Raw Spirit Festival. Her line of products help many achieve health and wellness through yoga.
Sweepstakes Ninja gives people the chance to learn about unique companies and unique personalities such as Dashama, while at the same time giving them the chance to win prizes. People may enter the sweepstakes through the sweepstakes draws (http://sweepstakesninja.com/sweepstakesdraw/draw/dashama-yoga-fitness-diet-and-healthy-living-lifestyle/). They are daily entry draws, that not only give people chances at winning amazing prizes, but also introduces unique companies to them. Through the sweepstakes draws, contestants have a chance of winning a health and wellness Yoga package from Dashama.
The sweepstakes promotion officially runs until January 1st, 2013. To increase their chances of winning, entrants may share sweepstakes links with friends, family, and through social media. This is a win-win situation for both Dashama and the entrant. No purchase necessary to play. Entrants increase their chances of winning a yoga prize package from Dashama.
About SweepstakesNinja.com
SweepstakesNinja.com designs fun and interactive sweepstakes. The company matches consumers with companies, in a fun and interactive manner. Entrants have the chance of winning amazing prizes, and have fun participating in the sweepstakes. Companies benefit from exposure to their brands, word of mouth advertising, customer loyalty, and long term increases in profit. For more details, visit http://www.sweepstakesninja.com/