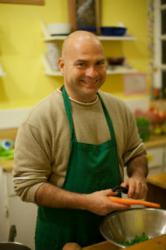 The Yoga cooking courses in California offered by the Sivananda Ashram are a great way to immerse in the practice of Yoga and healthy eating
Sacrament, CA (PRWEB) February 07, 2013
The program will take place Saturday, February 9—Sunday, February 10, 2013 in Grass Valley, California. This workshop aims to promote "Good digestion, Balanced meals, tasty and easy to digest food for the whole family." In the course, students will learn the art of using Indian spices for balancing their bodies and mind.
Students will learn about the science of the 6 tastes, a unique feature of ayurvedic nutririon to ensure proper digestion, assimilation of nutrients and elimination. The use of spices and sattvic food, based on grains, pulses and vegetables, savouries and sweetmeats as prescribed in Ayurveda bring about a wholesome experience of wellbeing.
Sweet- provides nutrition and tissue build-up.
Salty- retain water to keep cohesion in the tissues.
Sour- promotes secretions for proper metabolism.
Bitter- cleanses blood and toxins left along the digestive tract.
Hot- enhances agni (digestive fire), dissolves phlegm and has antimicrobial effects.
Astringent- allows water absorption in the colon for proper elimination.
About the instructor
Javier Lopez (Bharata) is a Sivananda Yoga Teacher and a certified Ayurveda Practitioner, Counselor , Pancha Karma specialist and Marma therapist trained in the US and India. For the last 15 years he has led a private practice and dealt in multiple corporate scenarios leading stress and pain management programs. He is actively providing marma therapy services at the Yoga Farm & centers in California.
In 1971, Swami Vishnudevananda returned to California and founded the third ashram in the young Sivananda International organization: the Sivananda Ashram Yoga Farm on 40 acres of land located in the Gold Country of the beautiful Sierra Nevada Foothills in Northern California. The non-profit, non-sectarian ashram offers yoga classes, retreats and teacher training courses for students of all abilities. For more information, please visit sivanandayogafarm.org Yoga retreats are also offered in Yoga vietnam.
The ashram also offers a Yoga Nidra course as well as jyotish (vedic astrology) classes. Registration is currently open. For more details please visit sivanandayogafarm.org or call (530) 272-9322/(800)469-9642.
"Swami Sivananda of Rishikesh taught Yoga-Vedanta, which came to the West through his many disciples like Satchidananda, Vishnudevananda, Ventakeshananda and Jyotirmayananda. The Sivananda Yoga Vedanta centers founded by Swami Vishnudevananda teach regular programs on Yoga-Vedanta and with references to Ayurveda as well. I have done many programs with this organization and find it to be the best Yoga training group in the west." -Dr. David Frawley