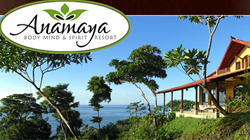 (PRWEB) March 15, 2011
After an overwhelming response to their Yoga Teacher Training Retreat last year, Anamaya Yoga Retreat Center in Costa Rica is adapting to the demand and making the training of new yoga teachers a huge part of their mandate – with a few added benefits.
The popularity of practicing yoga has been on a steady incline amongst men, women and children for the past 20 years. As the demand for yoga studios and yoga retreats is on the rise, so is the demand for yoga instructors. Yoga is an ancient Indian art form, philosophy, and physical discipline that is more than 5000 years old. Many studios host 200 – 300 hr yoga teacher-training programs, but up-and-coming yogis are looking for a more exotic place to obtain their training and certification. If the practice of yoga takes you on a path to being fit, free of stress, and contented then surrounding yourself with the beauty of a tropical paradise while learning to become a practitioner seems to be a natural fit.
The physiological, psychological and biochemical benefits of yoga are endless, but it is also a global, mainstream, multi-billion dollar a year industry so it's easy to see why many people have chosen it as a career path. Being a certified yoga instructor at a reputable yoga retreat or studio is important to gaining a competitive advantage in this thriving industry. Anamaya Resort and Yoga Retreat Center in Costa Rica has a clear understanding of this and although the resort is just over a year old it is already well known for the variety of retreats they offer. Everything from Yoga Retreats, Surf Retreats, Detox Retreats, Arial Silks and Tantric Love Retreats take place throughout the year at the Retreat Center in Montezuma, Costa Rica. However, one retreat that is getting a lot of attention is their 200-hour Yoga Teacher Training Retreat. It is so popular, in fact, that they have dedicated 4 months this year (May, June, September & October) specifically towards YTT retreats. Last year only October was scheduled for a YTT and the response was so great that they needed to partner with one of the local Bed & Breakfast establishments to house additional retreat participants.
"We were overjoyed to experience the overwhelming response we had to our first yoga teacher training…Not only did we fill our place but we also filled the B&B next door. It was beautiful to see how all the students bonded and have remained friends since the training, and it feels good to be connected to the spreading yoga movement." – Joseph Mikrut, Co-Owner and President of Anamaya.
This year Anamaya has 2 instructors that host two very different styles of yoga teacher trainings. This gives students an option based on the focus of their training. The May and October sessions with Sasha Dae focus on Hatha, Kundalini, Arkaya, Restorative, Yin, Laughter and Nidra styles of yoga and is suitable for beginners. The June and September sessions with Jackie Chiodo is a study in vinyasa flow asana, philosophy and science, breath work and concentration techniques, as well as yin postures and guided relaxation. Jackie recommends that 1 year of yoga experience is required for her retreat.
Most destination yoga retreats offer accommodations and all the course materials that are necessary, but there are a number of unique benefits included in Anamaya's yoga retreat that offers an added value. They include 3 organic meals a day, additional excursions to wildlife sanctuaries and local beaches, and a dance party with perhaps a performance by a number of local fire-dancers. You won't find that with any yoga packages currently on the market. You'll also find early bird discount offers, and other benefits for bringing your friends.
If you or someone in your life is interested in yoga, interested in becoming a yoga instructor, or just interested in getting away to a tropical paradise like Costa Rica then I suggest you peruse the Anamaya Resort website and see what they have to offer. There is a reason Anamaya is listed as number One on Trip Advisor.
Contact:
Kelsey Matheson-McCord
Vice President/Co-Owner
Anamaya Resort & Retreat Center
kelsey(at)anamayaresort(dot)com
http://www.anamayaresort.com
http://www.montezumabeach.com
###