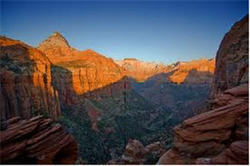 The retreat is well constructed and allows for personal attention which focuses on individual areas of need.
Alpine, UT (PRWEB) March 28, 2011
On April 28, 2011, Lifted Life Yoga Center will bring together a full spectrum of healing approaches and infuse them with the beauty of Zion National Park. Founded in 1999, LLYC is based in Alpine Utah and are a yoga studio who provide the fullest and most effective array of techniques and classes in Utah County. All of their instructors are highly trained with over 200 hours of training that assist their clients in achieving their health and fitness goals. "We have created an atmosphere that is safe, knowledgeable and inviting" said Julie Brahnam, founder of LLYC, "and that has led into the creation of our Zion yoga retreat. We want to bring together the beauty and wholeness of Zion National Park and infuse it with the healing approaches of yoga".
It may sound at first like a vacation, and yet it's a yoga retreat. A yoga retreat has a special effect on your whole being, different from a regular yoga class or workshop. "When you leave your daily routine and participate in our retreat," said Brahnam, "you set the stage for stress relief, deep rest, increased knowledge and understanding, and a greater appreciation for all things. You will also learn diet improvement techniques with delicious healthy food.
At the yoga retreat there is time set aside to determine where disease is occurring in the body and how to correct it by applying alignment principles with strength to incorporate new found patterns. "Retreats provide deep rest from your normal routines. When we are able to more frequently hold your own personal alignment, ease returns to your whole being," said Brahnam. Several of Lifted Life Yoga's clients have also experience moments of clarity as they have regularly spent time in the present moment. These "Ah Ha" moments provide physical, mental and emotional solutions, long lasting understanding and increased knowledge that is taken back and integrated into daily living.
During the yoga retreat, clients will experience a new found appreciation for the beauty of the body and its capacity. The retreat is well constructed and allows for personal attention which focuses on individual areas of need. "This personal attention leaves you with a tool box filled with options." Julie Brahnam said. "There is nothing more inspiring than walking away from an experience with power in your pocket. The power gained assists you to return to your daily living with tools to get out of pain, regain strength, find deep rest and blow the doors off of your possibilities."
This special type of getaway brings together a group of positive, like minded people and creates a canvas for awakening miracles. Don't hesitate to sign up and join Lifted Life Yoga Center this spring in Zion National Park.
###