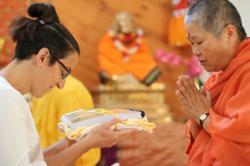 The Yoga retreats offered by the Sivananda Yoga Farm are a life changing experience
Sacramento, CA (PRWEB) November 13, 2012
The Sivananda Yoga Farm announces its schedule for 2013 international Yoga Teachers Training Courses and Yoga retreats in California.
The Yoga training course, designed by the renowned Swami Vishnu-devananda, is an intensive immersion in Yoga, balanced between theory and practice. Students come from different backgrounds and cultures and live harmoniously together in a spiritual community under the guidance of teachers. Since 1969, over 24,000 yoga teachers have been trained through the Sivananda Yoga Vedanta Centers' TTC program. In keeping with this ancient Yoga tradition, spiritual practices such as daily adherence to discipline, meditation, Sanskrit mantra chanting, Hindu gods and goddesses, ceremonial worships such as puja, strict vegetarianism, selfless service and study of philosophy constitute a large part of the course.
All courses and retreats offered at the center provide a fantastic opportunity to awaken or deepen your yoga practice, meet old and new friends, and to be a part of the global yoga community which is growing each day. The experience provides a great way to find long lasting happiness, peace and the ability to share a yogic lifestyle with others.
The ashram also offers a Yoga Nidra course as well as vegetarian cooking classes.
Registration is currently open. For more details please visit sivanandayogafarm.org or call (530) 272-9322/(800)469-9642.