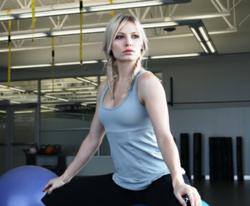 We thought it would be a lot of fun to let our customers pick which celebrity they would like to see wearing the 2013 sportswear line.
Edmonton, Alberta (PRWEB) June 23, 2013
Women's athletic wear company, TerraFrog Clothing Corporation, announced their Celebrity Gifting Contest today. To enter, contestants must simply email Customerservice(at)terrafrog(dot)com and suggest which female celebrity they would most like to see wearing TerraFrog's latest Swing Tank. TerraFrog will collect all of the suggestions and a draw will be held to select the winning celebrity. The contestant who submits the winning entry will receive a matching designer tank.
"We have gifted a few celebrities in the past--such as Miley Cyrus, Reese Witherspoon and Canadian actress Michelle Morgan," said TerraFrog Director, Cori Windsor. "This time, we thought it would be a lot of fun to let our customers have a say about who they would like to see wearing TerraFrog. I am not favoring any particular celebrity but I can picture Rachel McAdams in our collection as well as Charlize Theron. Also, I would absolutely love to see Maria Bello in TerraFrog--she is one of my favorite actresses."
The contest will run from June 25 to July 31, 2013. Only one entry per person. Complete contest details are available on the companies Facebook page.
About TerraFrog Clothing Corp:
TerraFrog Clothing Corp. is a Canadian sportswear manufacturer providing unique, high quality yoga clothing to individuals and select retail outlets. TerraFrog is well known for their exclusive, trend setting designs and styles. This stylish fashion and casual wear company limits the number of pieces they make despite consumer demand.
TerraFrog designs can be purchased directly through the TerraFrog website at http://www.terrafrog.com or at select retailers across Canada. TerraFrog wholesales their active wear line and yoga accessories to trendy boutiques in the United States and across Canada.