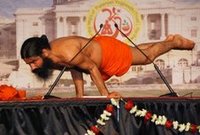 Before you've practiced, the theory is useless. After you've practiced, the theory is obvious. The bottom line I have adopted in my life from Swamiji is 'Inhale, and God approaches you; Hold the inhalation, and God remains with you; Exhale, and you approach God. Hold the exhalation, and surrender to God.'
Edison, NJ (PRWEB) August 4, 2008
Swami Ramdevji, the internationally renowned and iconic Indian yoga guru, with an audience of millions and one of the most important figures in the "Yoga for Health" movement conducted his first ever yoga camp in the Washington D.C. area July 23-27, 2008. Presented by Tathaastu: So Be It, the spiritual and holistic lifestyle magazine, in its effort to promote global well-being partnered with Divya Yog Mandir and Swami Ramdev.
The yoga camp held at the Dulles Expo & Convention Center was a sold out event with over 1500 people attending the yoga and Pranayama camp. Organized by Catch the Rhythms, Inc. and Georgy Bhaala, the yoga camp was a tremendous opportunity to learn under the tutelage of the famous guru who has transformed the life and health of millions of people in India and worldwide through his yoga workshops, TV shows and books. Swami Ramdev's philosophy is simple, he says "It is your birthright to pursue a disease-free, healthy, fit life; look beautiful & young; and get complete peace of mind and robust health."
Swami Ramdev has a practical and easy to follow approach to Pranayama (controlled breathing) and yoga. Air (vayu) - the essence of life when it is regulated and channeled helps promote a healthier more balanced life. Apart from the spiritual and meditation benefits of Pranayama and yoga, Swami Ramdev also focuses on health problems - ranging from heart disease, kidney disorders, diabetes, hypertension and others. India's top yoga teacher has a track record of restoring the health of millions of people caught up in modern day stresses and the heightened pace of corporate lifestyles. The feedback to the Yoga Camp was fantastic. Pratichi Mathur of Vedika Global, Inc from California enthused about the camp, "The Yoga Camp organized by Tathaastu: So Be It magazine honestly exceeded all my expectations. It was fun, educational, stimulating and above all super organized. While interacting with the participants who had come from all over USA, it was obvious that this camp was meeting a serious need for learning alternative means to well-being and health. I think the 5-day format of methodical teaching is also an excellent idea that ensures thoroughness of learning and minimizes error in home practice." Devinder Goyal found it to be an exhilarating experience and said "It was a blissful experience meeting Swami Ramdev. His yoga techniques are simply splendid."
On July 23rd, the first day of the camp, the ceremonial lamp was lit by the renowned spiritual healer, Chamunda Swami. The event was supported by some very well-known people in the South Asian community, these include: Harsh Sethi, Devinder Goyal, Manish Kutheala, Anil Bhasin, Dr. Ravinder Aulakh, Anil Chopra, Bharat Bhargava, Dr. Rajeev Khanna, Anil Gupta, Ashish Khosla, Kishan Narula, Sat Kapoor, Rajan Gangahr, Chamna Puri, Sunil Hali, Dr. Harvinder Kaur, Surjit Singh Mann and Dr. Satish Bhutani. Aastha TV was one of the main presenters of the event and will broadcast the yoga camp on its network.
Bharat Bhargava eloquently said: "Many of us in the Washington DC area have been ardent admirers of Swamiji already but the recent Yoga camp has electrified DC and the surrounding community. There is a new wave of enthusiasm and people are joining hands toward the collective pursuit and promotion of knowledge imparted by Swamiji. My wife Yog and I were privileged to have hosted a most remarkable dialogue between Swami Ramdevji and a vast number of physicians. It was an eye opener for us to learn how many doctors are also utilizing Swamiji's teachings already."
Harsh Sethi discovered the joy of practicing with Swami Ramdev: "Before you've practiced, the theory is useless. After you've practiced, the theory is obvious. The bottom line I have adopted in my life from Swamiji is 'Inhale, and God approaches you; Hold the inhalation, and God remains with you; Exhale, and you approach God. Hold the exhalation, and surrender to God.'"
Yoga which originated thousands of years ago is about achieving harmony - of the mind, body and soul. Swami Ramdev Yoga Camp was a fantastic opportunity to achieve a healthier body, peace of mind and a new you. http://www.yogacampdc.com
For information, contact:
Georgy Bhaala
Phone: 732-939-9900
Email: gbg(at)TathaastuMag.com
###