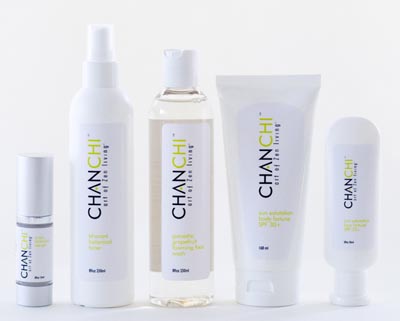 When you trust your heart, you trust in the universe that it will take care of you and grant you your wishes.
Los Angeles, CA (PRWEB) August 14, 2006
On August 5, 2006, Clara Chan introduced the first "yoga inspired skincare system" at the John Paul DeJoria estate in Malibu. The ChanChi~Skin & Body Care Restorative Yoga Face Kit was included in each celebrity gift bag at the Showtime sponsored Much Love Animal Rescue Foundation fundraiser. Supporters and recipients of the Restorative Yoga Face Kit included Tori Spelling, Fran Dresher, Tia Carrera, Pam Grier, Minnie Driver, Dick Van Dyke and many more.
"We've created daily yoga routines for your skin because the skin is the largest organ of the body. It's the most exposed organ and the most vulnerable to the external elements of pollution, free-radicals, and harmful UVA/UVB rays," says Chan.
Yoga reduces stress while increasing balance, suppleness, and tone for the body. Practicing ChanChi~yoga for your face cultivates these same benefits for your face and body too. ChanChi~ Skin Care includes the Asanas and Savasanas yoga sequences for your face and body.
The daytime yoga routine for your face is named after the active yoga poses known as Asanas. ChanChi~Skin Asanas nourishes and protects the skin from external elements beyond your control. The Asanas bring clarity, balance, and a youthful glow to your face. One asana yoga routine you can practice, is to protect your skin by using our Sun Salutation SPF 30+ Sunscreen for your face and body.
"Our sunscreen is different because it hydrates with vitamins A, D, & E. It interlocks and bonds to the skin while allowing our skin to sweat and breathe, preventing break outs and clogged pores," say Keith West, esthetics director for the line.
The Savasana skincare sequences are evening yoga rituals for the skin that will calm, heal, regenerate and promote cellular renewal of your skin while you sleep. A universal resting pose in yoga that reduces the stresses, increases our energy source and rejuvenates the body is known as the Savesana. The nightly yoga ritual is using "OM" skin perfecting crème to stimulate cellular energy production and cellular renewal to rejuvenate the skin. It's transformative; it hydrates, reduces fine lines, brown spots, and other skin irregularities.
"These formulations rely on special extracted botanical ingredients rather than synthetic chemicals to deliver results," explains Clara Chan, creator of ChanChi Skin. "Our mission is to bring the benefits of a daily yoga practice to your skin and face. Let your face reflect your confidence and the inner beauty of your soul."
ChanChi~Skin Care has already been featured on AOL for Small Business. For more information on the ChanChi~art of Zen living product collection, please visit our website at Chan Chi Living Web Site or contact Clara Chan at 310-663-5481.
About Clara Chan:
Clara Chan has combined her talents in business and her passion for health and wellness to create the first Zen lifestyle company. Using her family's name Chan meaning "Zen" in Chinese combined with creative energy forces of "Chi", is Clara's inspiration in naming her company ChanChi~art of Zen living.
Before creating ChanChi~ art of Zen living, Clara spent 15 years as an executive recruiter and strategic management consultant in the Silicon Valley. "Although I found success in my career, I felt little satisfaction because I had no balance in my personal life. I started practicing yoga and my life changed. Yoga healed my heart when I did not know it was broken. The heart chakra governs the skin, which is the largest organ of our body. Creating yoga for the face became an inspiration for me to heal the skin and your emotional soul. Exposing your skin to less stress will improve tone, texture, and color. When your skin feels healthier and appears more youthful, you feel confident in your appearance, which in turn helps you feel better about yourself."
Clara now teaches power yoga, Bikram yoga and owns a Bikram yoga studio in Agoura Hills, California. ChanChi~ art of Zen living is a dream that has become a reality for Clara. "When you trust your heart, you trust in the universe that it will take care of you and grant you your wishes." Trust your heart, make a wish and practice yoga for your face to allow the inner beauty to shine through.
# # #