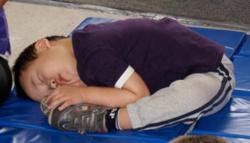 "Worcester Fitness is delighted to be working together with Ivy Child International on this exciting new program." - Joe Santa Maria (General Manager-Worcester Fitness)
Worcester, MA (PRWEB) April 04, 2013
Give a child the gift of physical and emotional fitness by joining Ivy Child International and Worcester Fitness – Worcester's premium family health club – for "First Fridays – Yoga & Mindfulness Program for Kids " offered the first Friday of each month from 5pm – 8pm.
On Friday, April 5, 2013, Worcester Fitness will open its doors to the community to address the emotional, as well as physical health, of children and youth (ages 2 to 10) through various programs, from "Multi-Cultural Arts and Music Education" to "Ivy Star Yoga and Mindfulness for Kids", sponsored by Ivy Child International and designed to teach children mindfulness-based stress reduction techniques.
Worcester Fitness offers personal fitness training, from beginner to expert, with over 70 classes each week including ZUMBA, cycling, and yoga. Studies show that children who practice yoga and mindfulness at an early age learn to tune into their bodies and regulate their emotions, thus strengthening their emotional intelligence, building resilience, and fostering healthy habits for life.
Joe Santa Maria (General Manager-Worcester Fitness): "Worcester Fitness is delighted to be working together with Ivy Child International on this exciting new program. Ivy Child's commitment to improving the lives of young people around the world has inspired the Worcester Fitness team to take a closer look at how we can make a positive impact on children in our community. Our intention is to help Ivy Child International reach their challenging goals now and for years to come."
Ivy Child's specialized programs teach children self-regulation while building self esteem as they learn to navigate control of the body through the practice of yoga and mindfulness using their breath as an anchor. The goal – in addition to improving fitness, health, and flexibility – is to combat the increasing levels of aggression, stress, anxiety, and depression found in children today by cultivating self-awareness, enhancing imagination and empathy while fostering the joy of movement. Through yoga and mindfulness children learn life skills strengthening not only the fitness of the physical body but their emotional fitness as well.
Ivy Child International, a leader in child development and innovative health programming, uses its academic research in cross-cultural positive psychology and mindfulness-based stress reduction to design and implement a variety of practical solutions for children and adolescents. We focus on community education via our training programs, research projects, and curriculum development.
For more information or to register for "First Fridays" with Ivy Child email info(at)ivychild(dot)org
To learn more about Ivy Child International's variety of acclaimed curriculum-based learning programs for children and teens, visit http://www.ivychild.org/programs/.
To partner with Ivy Child to offer a specialized program, contact Rose Pavlov, Founder and President of Ivy Child International, at the email address rpavlov(at)ivychild(dot)org or call 508-299-7905.
-------
Ivy Child International: Our mission is to "help each child achieve their best" by recognizing and enhancing their unique strengths and abilities while encouraging and enabling families to participate in the growth of their child. As a leading resource for providing guidance and instruction for creating a healthy, child-centered environment to caregivers, educators, community agencies, and healthcare organizations worldwide, we offer customized curricula to address the most pressing issues of today. Our premier programs teach self-regulation and conflict resolution skills, and are designed to cultivate cross-cultural understanding. We conduct and present our curricula in after-school programs, schools, hospitals, community centers, etc. Support Ivy Child by donating online to further our mission of "Helping Each Child Achieve Their Best." Make a difference today.
Contact Information:
Rose Pavlov
rpavlov(at)ivychild(dot)org
Ph: 508-299-7905
Fax: 508-300-7755
http://www.ivychild.org
Facebook.com/IvyChild
Twitter.com/IvyChild
Linkedin.com/company/ivy-child-international