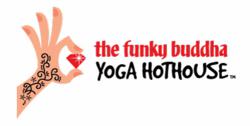 "Students will be able to experience a style of yoga that is incredibly popular at an irresistible price," said Reinbold, "you should check out what thousands have already experienced – there is nothing else like it in the area."
Grand Rapids, MI (PRWEB) June 16, 2011
The Funky Buddha Yoga Hothouse, Grand Rapids' first hot power yoga studio, is set to expand. The studio has seen almost 3,000 individual students and over 20,000 total student visits since opening last December.
"We are extremely excited and humbled by the response," said studio co-founder Kerri Reinbold "We've expanded our schedule to 30 classes a week, hired 5 additional teachers and added 4 full time and 5 part time staff employees – all of which has driven us to expand so quickly."
The studio is conveniently located at 1331 Lake Drive in eclectic Eastown in the Silver LEED Certified Boland Building. Construction on the expanded space started this month, and the studio is scheduled to close from July 1-10, 2011 to complete the expansion. The grand re-opening is planned for Monday, July 11. The expansion plans include taking the studio and practice space from 2,000 to 3,400 square feet. The expanded studio will feature a spacious, colorful practice space with natural lighting and cork floors, interactive wall space, surround sound, changing rooms, hot yoga boutique and state-of-the-art heating and humidification systems.
To celebrate the expansion, the first annual Yoga on the Circle is planned for July 1, 2011 at Rosa Parks Circle. The event starts at 6:30 p.m. and is both free and open to the public. Other free outdoor classes are planned for July while the studio is closed. A full list of classes and locations can be found here.
To further celebrate the expansion and re-opening, the studio is offering a new student special of 30 days of unlimited yoga for $39. "Students will be able to experience a style of yoga that is incredibly popular at an irresistible price," said Reinbold, "you should check out what thousands have already experienced – there is nothing else like it in the area." Memberships and class packages are also available to students who wish to make the Funky Buddha Yoga Hothouse their yoga home. Buy online to take advantage of the new student special.
About The Funky Buddha Yoga Hothouse:
The Funky Buddha Yoga Hothouse is a Hot Power Yoga Studio located in eclectic Eastown. Our mission is to empower people of all ages and physical abilities to their own personal transformation through the practice of Baptiste Power Vinyasa, a fun, dynamic, flowing style of yoga.
###