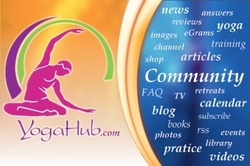 In order for us to remain true to our intent, we felt that it was important to incorporate the phrase 'Revolving Around You' into our name
Los Angeles, CA (PRWEB) February 19, 2008
After spending more than two years developing, testing, and revising their vision to create a unique online yoga community, YogaHub.com is now welcoming visitors.
"Our intent was to create an opening for all people into the experience of practicing yoga on all levels," says Christina Souza Ma, founder and producer of YogaHub.
Ms. Souza Ma and her team began this venture by developing a blog at YogaHub.org. The blog provided current yoga news and events pertaining to the industry, including in-depth articles by yoga professionals in the field. It quickly became a successful and sought-after resource, receiving thousands of visitors each month.
As a result of this increased interest, the YogaHub team quickly extended their research to consider multiple levels of resources that would be most valuable to a diverse online yoga community of teachers, students and scholars.
"In order for us to remain true to our intent, we felt that it was important to incorporate the phrase 'Revolving Around You' into our name," Ms. Souza Ma explains. "Everyone's practice is personal and unique. Therefore, each area of the website contains resources that will serve the interests of a wide variety of individuals."
As you delve into the YogaHub.com website, you will find a wealth of yoga content and related information. Special areas of interest include the YogaHub library; reviews of online yoga videos, yoga dvds, books and magazines; a community yoga calendar that covers both national and global events; and their multifaceted yoga blog.
"We are committed to sharing our resources and promoting the practice of yoga through interaction with the online yoga community," says Ms. Souza Ma. "We call it a 'Hub' because we recognize that it is important to create a centralized site where all yoga practices are discussed, reviewed and experienced through shared information and discussion."
For more information or to join their online yoga community, visit YogaHub.com
###