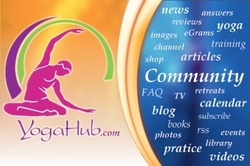 We want to be a liaison for mutual understanding of a healthy and well-balanced lifestyle
Los Angeles, Ca (PRWEB) February 27, 2008
After their recent website launch, YogaHub revealed their new online yoga community at MyYogaHub.com, a new social network for yoga and health enthusiasts.
"My YogaHub is defined as a place for conversation, debate, and shared resources," explains Christina Souza Ma, founder and owner of YogaHub. Although this area may appear similar to other social networks, it differentiates itself by the focus within the community. "We want to be a liaison for mutual understanding of a healthy and well-balanced lifestyle," Christina continues. "Whether you practice yoga, holistic medicine or yoga therapy, or you consider yourself an environmentalist, artist or creative thought leader, our hope is that your interests will find parallels for the betterment of our global community."
YogaHub's online yoga community offers many options, including the ability to create your own blog, share photos, and upload yoga videos, just to name a few. In addition, they have a yoga calendar for community events, both locally and internationally. "We aim to distinguish ourselves from other social networking sites by narrowing the focus of content and members to yoga, health and spiritual well-being," says Christina.
Another area of the site worth highlighting is the free yoga postcards. These are a series of 52 weekly postcards designed to offer you rich and memorable images, quotes and inspirational audio tracks that will enhance your daily yoga practice. The postcards display photos of people in meditation, nature and cultural rituals from around the world. The audio track provides a short guided meditation or suggestions to improve your yoga practice. These weekly thought-provoking yoga postcards are free and are delivered directly to your email.
"By developing these areas of YogaHub, our goal was to provide a place for dialogue, inspiration and encouragement within the community," says Christina. It's an excellent example of how to serve a growing population of people committed to emotional, physical and spiritual well-being.
To claim your free account to YogaHub's online yoga community, visit MyYogaHub.com
###