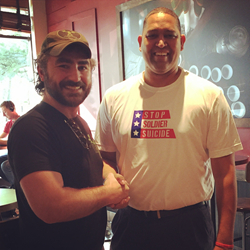 "As a combat veteran, and one who started doing yoga this past summer, I love it ... working with YogaJack will help us bring awareness to the benefits of yoga." - Nick Black, Cofounder, Stop Soldier Suicide
Boston, MA (PRWEB) March 24, 2015
YogaJack, the online yoga and lifestyle brand, launched a new line of custom yoga mats and gear this week - pairing up with Stop Soldier Suicide, the first national civilian not-for-profit organization dedicated to preventing active duty and veteran suicide, to drive awareness to the epidemic of suicides in the military.
The Mission Yoga Mats feature a custom stitched Stop Soldier Suicide logo - crafted locally in New England, too, which was an important factor for YogaJack founder Jahon Jamali, a Boston-area native. The Stop Soldier Suicide Mats are on sale now, with a portion of sales proceeds directly supporting the Stop Soldier Suicide mission.
Stop Soldier Suicide is the first national, civilian not-for-profit organization dedicated to preventing military suicide. Using a triage model of care and vast resources, the group aids service members, veterans and their families who need to work through emotional or other issues that are leading to suicidal ideations. Stop Soldier Suicide has an intimate understanding of the military lifestyle and its associated hardships with a Board of Directors composed of active military service members and veterans. Stop Soldier Suicide is a 501(c)3 non-profit organization that survives solely on donations and corporate sponsors.
"Stop Soldier Suicide couldn't be more excited to work with YogaJack, " says Nick Black, COO and Founder of Stop Soldier Suicide. "As a combat veteran, and one who started doing yoga this past summer, I love it. Our organization is about helping veterans find resources in their time of need, and I believe that working with YogaJack will help us bring awareness to the benefits of yoga for our veterans."
Founded in San Francisco in 2013 as an online retailer, YogaJack now calls the Boston area home. Appealing to the "average Joe," YogaJack's initial line of "tough" yoga mats were just what founder Jahon Jamali envisioned when he set out to alter the yoga male stereotype.
"I couldn't be happier teaming up with Stop Soldier Suicide," Jamali said. It's really moving ... getting letters and emails from folks explaining how important it is ... for their loved ones lost, or to those they know are struggling, or for themselves. It's an honor supporting that mission."
YogaJack and Stop Soldier Suicide's joint effort will be featured on ForbesLiving TV, Friday, March 27th at 7:00AM EDT/PDT on WEtv (check your local listings).
For more information on YogaJack, please visit http://www.goyogajack.com. For information on Stop Soldier Suicide or to get involved, please visit http://www.stopsoldiersuicide.org.