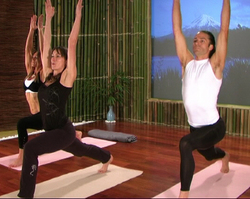 Yoga and the Art of Aging
New Plymouth Taranaki (PRWEB) August 6, 2009
As of the first week of August all visitors to Yoga Online (yogaonline.info) will have full access to the suburb new yoga series "Yoga and the Art of Aging". This is a yogic guide designed to aid the aging process. It is to be released over the coming seven weeks. Week One is now streaming free via the Yoga Online home page. This first week, which focuses on those areas that best target the Core (Belly Region) and Spine Stability, is available free to all website visitors.
Serving the Yoga community for the past eight years with free information and downloads, Allan Hall and Yoga Online are celebrating over a half million downloads of their Beginners Yoga DVD - "Yoga for Health" with the launch of "Yoga and the Art of Aging". The "Yoga for Health" routine is a comprehensive workout for beginners and the well practiced alike. For the first time it can now be accessed free via online streaming at the Yoga Online website.
"This is an exciting development in our ability to educate people. Now the beginner to average practitioner of yoga can learn the right way the first time from the comfort of their home. So many people are put off yoga due to unnecessary strain when they first start. It is our goal at Yogaonline.info to provide a space where learning can be fun and rewarding while contributing to global health and wellbeing" says Al Hall of yogaonline.info.
It is Al's goal and passion to promote the benefits yoga has to offer to help humanity as a whole to improve and nourish the gift of health.
Find out more at the Yoga Online website.
Contact:
Al Hall
Yoga Online
PH: (64) 6 751 1163
###