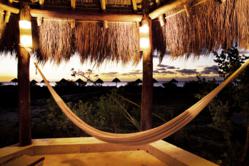 Resting in a Mayan hammock is the best way to enjoy a truly deep relaxation -- like sleeping in a cloud!
Celestun, Yucatan (PRWEB) February 05, 2013
Yoga retreat teachers, wellness practitioners, and those wishing to experience undisturbed nature are quietly discovering the un-crowded and pristine white sand beaches of Xixim, located on the Yucatan Peninsula's western side, just one hour from Merida. In late April, guests will have yet another relaxing reason to visit Hotel Xixim: they can kick back while learning to weave their own creative and colorful Yucatecan hammock. From April 25 – 28, 2013, Hotel Xixim is offering a 4 day, 3 night workshop called "Weaving Your Emotions".
The hammock-weaving workshop at Hotel Xixim is priced at $598 per person double occupancy. Included are: the workshop with well-known master hammock designer and weaver Miguel Guerra, all materials, round trip transfers from Merida to Hotel Xixim, 4 days/ 3 nights in an individual Mayan bungalow Jr. Suite, daily meals including Mayan cuisine, all non-alcoholic beverages, a local excursion, a group bonfire on the beach, an awards presentation, and the personal hammock woven at the workshop. Guests need to book by March 31 to guarantee participation.
Mayan hammocks, made of natural fibers such as sisal or cotton, are known the world around for their strength, quality, and comfort. Yucatan Mayan hammocks are woven individually and are unique works of art, through their color, design, and fibers. The Mayan people throughout Mesoamerica have used hammocks for about 1,000 years. Active commerce between the ancient and more recent Maya and other warm weather regions in the western hemisphere spread the use of these comfortable "beds". Through unique construction and materials, Yucatecan Mayan hammocks are considered so comfortable they have been compared to a feeling of weightlessness or like "sleeping in a cloud", or even "the best way to enjoy a truly deep feeling of relaxation."
The workshop, "Weaving Your Emotions", is April 25-28, and can be booked at http://hotelxixim.com/hamacas.php.
About Hotel Xixim
Hotel Xixim, located one hour west of the city of Merida in the Celestun Biosphere Reserve on the western Yucatan Peninsula, welcomes individuals, couples, families and groups. The hotel offers 32 individual Mayan bungalow suites nestled in tropical vegetation on three miles of pristine white sand beaches. Opened in 1996 and expanded in 2010, this unique Mayan hotel provides special group rates for yoga and wellness group retreats, family reunions and events, weddings, eco-adventure and birding groups, Mayan culture and archeological tours, and business meetings. Earlier in 2012, Hotel Xixim received the Certificate of Excellence from TripAdvisor, awarded for consistently outstanding traveler reviews to only ten percent of accommodations listed on this review site. Visit http://www.hotelxixim.com or for group rates, inquire at groups(at)hotelxixim(dot)com.