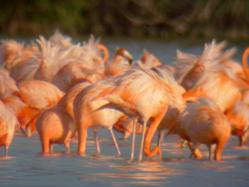 Xixim's beauty and tranquility captured me and made me a part of it. I'll never forget this place.
Celestun, Yucatan (PRWEB) April 03, 2013
Just one hour west of Merida, Hotel Xixim (http://www.hotelxixim.com) a 32 bungalow ecologically sustainable, nature retreat hotel, is located inside Mexico's 147,000 acre Celestun Biosphere Reserve. On 3 miles of white sand beach covered with xixim ("sea shell" in the Mayan language), the hotel is quietly becoming known as a secluded place of peace and spiritual renewal through connection with nature.
Yoga and Meditation Retreats
Yoga and meditation retreat travelers have long known about the eastern Caribbean coast of the Yucatan Peninsula of Mexico. However, over the last ten years, as the beaches and small towns south of Cancun have become more developed and touristy, yoga teachers are now discovering the pristine and un-crowded white sand beaches of Xixim – located on the western Yucatan side of the Peninsula. Discerning travelers interested in healthy activity, paired with discovery in nature, are enjoying the protected environment of the Celestun Nature Reserve and Hotel Xixim's comfortable Mayan style bungalows.
This fall, for yoga and wellness retreat groups booked between September 1 and December 15 with a minimum of five bungalows, Hotel Xixim is offering discounted rates and a complimentary 30-minute massage for each retreat participant. Detailed yoga and wellness retreat information and group retreat quotes are available on the hotel's website or by contacting: groups(at)hotelxixim(dot)com.
Workshops and Promotions
Hotel Xixim also plans several special workshops in 2013: "Weaving Your Emotions", April 25-28, a Mayan hammock weaving workshop; "Karma Kids Yoga", July 31-August 4, including yoga for children and baby turtle release; and "Saborearte", November 15-17, the art of cooking traditional Mayan cuisine. Package prices and reservations, including special summer family rates, are available on the hotel website.
Celestun Biosphere Reserve Seasonal Wonders
Jaime Solis, Hotel Xixim's general manager, explains the rhythm of nature in the Celestun Biosphere Reserve. "The nature reserve estuary is home to over 300 species of birds, with 16 endemic, creating a year-round symphony of birdsong and bird-watching opportunities. Flocks of American Pink Flamingos arrive by the thousands in November for mating season and the courtships carry on through February," adds Solis. To see this spectacle, the hotel offers panga (boat) trips into the heart of the coastal waterways. Special September – November rates, including Thanksgiving holiday, are available.
From late March through early June, orchids native to Xixim begin to bloom in all colors, shapes and sizes. Summer (May through September) is the season for taking part in the protection of Carey sea turtles that nest from April to June on Hotel Xixim's first dune. In cooperation with Pronatura, a Mexican non-profit formed to protect the country's biodiversity, Hotel Xixim organizes guest participation in the July and August release of the baby turtles into the sea.
About Hotel Xixim
Hotel Xixim has recently expanded to 32 individual beachside Mayan bungalows with porches and hammocks, a new Wellness Center with SPA treatment bungalows and a 43 foot diameter yoga practice pavilion, a juice therapy bungalow, traditional gym, new tree top ocean view bar and library area, a larger restaurant with Mayan-Mexican fusion and vegetarian menus, new outdoor areas for yoga and meditation practice, and a second swimming pool in the Wellness Center. The expansion has created the ability to serve more than one group retreat or workshop at a time in plenty of privacy. In 2012, Hotel Xixim received the Certificate of Excellence from TripAdvisor, awarded for consistently outstanding traveler reviews to only ten percent of accommodations listed on this review site. The editors of Fodor's, a leading name in travel guides for over 75 years, also selected Hotel Xixim for their "2012 Fodor's Choice" award, given to only the top 15% of their listed properties world-wide. Visit http://www.hotelxixim.com and for assistance in planning a group retreat of event, inquire at groups(at)hotelxixim(dot)com.