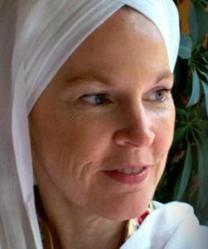 "If you teach yoga or art or if you work as a healer, you'll find inspiration and practical ways to deepen your professional practice," Hari Kirin said.
Eagan, Minn. (PRWEB) November 09, 2011
Renowned artist, author and Kundalini yoga teacher Hari Kirin Kaur Khalsa is coming to YogaSoul Center for two dynamic days blending yoga and creative arts.
Hari Kirin Kaur Khalsa is an artist and teacher dedicated to healing through yoga and art. She teaches at Kripalu Center for Yoga and Health, the Antrim Girls Shelter, Omega Institute for Holistic Health and several other places. She's the author of "Art & Yoga: Kundalini Awakening in Everyday Life," which was released by KRI in June.
Deepak Chopra states, "Art & Yoga is a beautiful, clear and useful book. It presents an accessible practice of yoga and art for healing oneself and ones community."
On the first day of the workshop, students will practice Kundalini Yoga, a potent yoga style that combines chanting, meditation and poses in sets called kriyas. Hari Kirin will expertly guide workshop participants through each chakra to subtle realms of healing and support. Attendees will discover individual visual language moving from yoga and meditation to art-making, and then back into yoga.
The second day is designed for those with an interest the healing power of yoga and the creative arts. In this workshop, attendees will be introduced to the basic guidelines for integrating creative arts, Kundalini yoga and meditation into healing work. Required for the workshop is "Art & Yoga, Kundalini Awakening in Every Day Life" by Hari Kirin, which is available for purchase at YogaSoul.
Those new to either or both practices are welcome, as are accomplished yogis and artists. Workshop participants will return home with completed artwork, yoga routines, meditations and other resources.
"There is no need to know how to draw, paint, meditate, or do yoga to use to attend this workshop. The art exercises are designed to make the experience accessible and fun, while also introducing a variety of inexpensive, safe, and easy-to-obtain art materials. Any experience you, the reader, bring to the process will be helpful," Hari Kirin said. "If you teach yoga or art or if you work as a healer, you'll find inspiration and practical ways to deepen your professional practice."
Cindy Boyum, a fourth-grade teacher at Pinewood Elementary in Eagan, Minn., said K-12 teachers will find the workshop useful as well.
"While striving to educate children with more 'standards' crossing our desks than we teachers can count, we are at risk of squeezing out essentials that do not show up on standardized tests," Boyum said. "Fortunately, brain research points to the necessity of pairing multi-sensory approaches with learning and curriculum writers are paying attention."
Pre-registration is required for the weekend. One day will cost $88, and attendance for both days is $150. The price includes materials and handouts.
YogaSoul Center's mission is to help clients win the battle against stress. It has an extensive class offering in several styles of yoga, including Kundalini, Hatha, Yin, and Vinyasa. It boasts a fully equipped Pilates studio and offers many kinds of classes, including Zumba, Tai Chi and belly dancing. Its full roster of teachers and healers provide clients with a variety of healing services, including intuitive readings, Reiki, Thai yoga bodywork, Ayurveda, energy work and several others. YogaSoul also hosts special workshops and Kundalini yoga teacher trainings.
To see a full schedule, make an appointment with a healer or sign up for a class, visit YogaSoul's website, http://yogasoul-center.com/. New students get their first week of classes free.
###