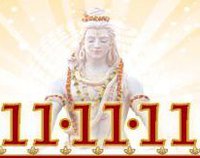 The YogaSoul Center was created with community in mind. - Tarisa Parrish, Owner.
Eagan, Minn. (PRWEB) October 31, 2011
YogaSoul Center in Eagan is hosting an open house to celebrate 11/11/11, a day that yogis locally and globally recognize as a planetary shift in consciousness.
The yoga and wellness center will offer to the public a free evening of food, fun and healing. Its staff will give short yoga and Pilates classes, aura photos, coloring meditations, free henna tattoos and other specials. Festivities start at 6:30 p.m. at the center at 1121 Town Centre Drive, Suite 100 in Eagan, south of the Twin Cities metro area.
"The YogaSoul Center was created with community in mind," says owner Tarisa Parrish. "Our center is so much more than somewhere to work out. It is a place where people can connect with others in a safe, nurturing environment. Our Open House provides an opportunity for attendees to explore the center, meet our teachers, enjoy some delicious food and have fun!"
Yogis, spiritual warriors and millions of others across the world are celebrating 11/11/11 as humans experience a new awareness. Concerts, gatherings of various groups and cultures, and community celebrations like YogaSoul's are taking place on a powerful day that marks the beginning of what Kundalini yoga practitioners call the Aquarian Age. Some people have set Dec. 21, 2012, as the date a new era of awareness begins; that's the date in the Mayan calendar that marks an end of a 5,125-year cycle. Regardless of the precise date this new era begins, change is coming, and the world is acknowledging it through a variety of events.
The earth's axis shifts once every 24,000 years, and that cycle is marked by 12 parts each connected with 12 astrological signs, according to global Kundalini Yoga community 3HO. For example, the organization explains, from 2000 B.C. to 0 A.D. the earth has lived in the Age of Taurus. From 0 A.D. to now, humans have been living in the Age of Pisces. During the Age of Aquarius, experts predict the world will be dominated by open information and horizontal networks, rather than vertical hierarchies. In such a world, people will go through major personal and spiritual transformations to become more reliant on themselves and less reliant on something or someone outside themselves -- such as a political leader, a religion or their jobs, according to 3H0.
YogaSoul's 11/11/11 event is one that recognizes the need for coming together as a community during a time of personal and global transformation.
Parrish tell us, "during times of transition, many people can begin to feel a little scattered or stressed. This is the ideal time to stay connected with people and places that have a positive, supportive, and nurturing influence. YogaSoul will offer this type of environment not only during our Open House, but for the days and months that follow."
YogaSoul Center's mission is to help clients win the battle against stress. It offers several classes and styles of yoga, including Kundalini, Hatha, Yin, and Vinyasa. It boasts a fully equipped Pilates studio and offers many kinds of classes, including Zumba, Tai Chi and belly dancing. Its full roster of teachers and healers provide clients with a variety of healing services, including intuitive readings, Reiki, Thai yoga bodywork, Ayurveda, energy work and several others. YogaSoul also hosts special workshops and Kundalini yoga teacher trainings.
To see a full schedule, make an appointment with a healer or sign up for a class, visit YogaSoul's website, http://yogasoul-center.com/. New students get their first week of classes free.
# # #