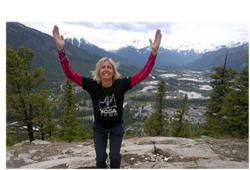 My motivation to write and produce a short for web based series was inspired by the "under-belly" of the yoga scene.
Vancouver, BC, Canada (PRWEB) November 14, 2012
YOGA TOWN, the hilarious online comedy series has released 8 of 12 two-minute episodes thus far. This week's upcoming episode features Vancouver based singer/songwriter and avid yoga enthusiast, Sarah McLachlan. Interested in finding out how Sarah makes her appearance? Its free for viewing after 5pm PST on Wednesday, November 14th at http://www.watchyogatown.com
YOGA TOWN is written and produced by Jill Hope Johnson, an accomplished writer, who's work focuses on her love of black humor, and gift of story telling. The 12-part mockumentary demonstrates her funny, edgy and often unsettling portrayals of human relationships. The series is co-produced by Ashwin Sood, an accomplished drummer, percussionist, vocalist, mentor, songwriter and producer. He is a self-proclaimed yoga enthusiast, and is often seen sweating in a hot yoga class.
Watch all episodes of YOGA TOWN by visiting the series website, http://www.watchyogatown.com. Not to be missed are Jill Hope Johnson's hilarious blog posts where she communicates her perverse views on yoga, life and everything in between. Become a fan of the show on Facebook and follow on Twitter.
About YOGA TOWN
YOGA TOWN is a mockumentary comedy about small group of employees challenged in many ways to run their financially struggling yoga studio. Willow, owner of Yoga Town, relies on her staff, made up of her angst ridden teenage daughter, Amber, and her sensitive, star instructor, Chas, to create an environment of 'real yoga for real people'. Unfortunately, Karma isn't paying the bills. When a mobile yoga company 'Go Yoga' parks in front of their studio, the ante is raised. Willow is forced to go to battle with Elijah, the Pied Piper of Yoga. Everything she can do, he seems to do 'better'. Willow does what she can to include bringing in a life coach to help indianize the studio. Watch Willow navigate the land mines of life and make every attempt to become a better yogi, studio owner, and parent. The question is, will she? An all-star Vancouver based cast includes Lori Triolo, Jay Brazeau, Vincent Tong, Veena Sood and Ingrid Nilson.
About Jill Hope Johnson
Jill Hope Johnson is a produced playwright, poet and comedy writer as well as being a community development consultant and event planner. Jill's material has been performed on a variety of stages to include the Vancouver Comedy Festival, Winnipeg Comedy Festival, Glasgow Comedy Festival and Vancouver Fringe Festival. Jill has also written several plays, poetry, screenplays and scripts and currently has numerous stage plays and projects in development.