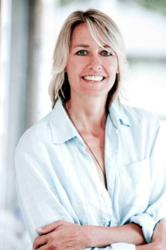 Yoga Town takes a humorous approach in exposing the fragile nature of our own efforts to be more karmically evolved in a money driven society. ~Jill Johnson, Producer
Los Angeles, CA (PRWEB) September 26, 2012
The new web series "Yoga Town" is set to premier on YouTube, Wednesday, September 26th at 5pm Pacific Time. Yoga Town, the creation of writer Jill Hope Johnson, is a 12 episode weekly mockumentary based on the trials and tribulations of a struggling yoga studio, Yoga Town, and its hapless group of employees. When a mysterious interloper appears, and disrupts the flow of Yoga Town's normal daily operations, the fun begins. Yoga Town is built for the web, with weekly episodes clocking in at a mere two and a half minutes, plenty short to fit in during a quick break from the daily grind, or in between yoga classes.
Over the past 30 years the western world has whole heartedly embraced the idea of yoga, both as a tool for spiritual exploration, and as a healthy exercise alternative. The benefits of yoga have been praised extensively by doctors, athletes and celebrities. But as the popularity of yoga has grown so has the business of yoga. From the throngs of individuals looking for that perfect yoga body, to the spiritually lost trying to find their third eye, yoga has become a billion dollar enterprise in North America.
Producer and writer Jill Johnson describes the launching of Yoga Town. "I would say launching this show reminds me of my first date at age 15, when I NAIRED my upper lip and ended up hiding in the dark all night for fear that my scab moustache would be exposed." Jill continues "This show exposes the fragile nature of our own efforts to be more karmically evolved in a money driven society. We are only one evolutionary brain above the primate when it comes right down to it. And monkeys are way better at yoga poses then we are. And yet, we try, we work, we attempt to be better humans in the World. And sometimes it's easier said than done."
Yoga Town is a smart commentary on this monetization of yoga. Ms. Johnson's sardonic humor provides a sharp observation on what yoga "is" in the modern world, and what people think yoga should be. As Willow, the main protagonist of the show proclaims early on in the series, "Yoga Town is real yoga for real people. Not like what's going on in the rest of this city." Episodes will be premiered weekly, on Wednesday at 5pm PST, and can be watched on the show's website watchyogatown.com, or Yoga Town's YouTube channel at youtube.com/WatchYogaTown. The premier episode will be Wednesday, September 26th at 5pm PST.
About Jill Hope Johnson
As an accomplished writer, the most recognizable elements of Jill's work focuses on her love of black humor, and her gift of story telling. She has a fresh way of looking at the world – as demonstrated in her funny, edgy, and often unsettling portrayals of human relationships. Whether the format is web series, screen/television writing, stage plays or speech writing, Jill knows how to communicate the perverse views of our World, while sitting in the acrid juices of possibility. @JillHopeJohnson