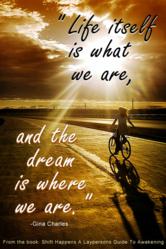 She explains how our Conscious expansion manifests itself as the life of our dreams, and as a new world.
Sacramento, CA (PRWEB) December 31, 2012
Just in time for new year/new you resolutions, natural health deal site, YoginiDeals.com releases an exclusive offering from Mindful Living expert, Gina Charles. Happiness, awakening and humor. Take all three, add personality and you've got Gina Charles' book, "Shift Happens, A Layperson's Guide to Awakening." Enlightenment may be out of reach, but readers can expect an Inner Awakening as Gina Charles points the way to a series of Ah-Ha moments that have life changing potential.
In a Yogini Lifestyle, Awakening is a Hot Topic. YoginiDeals.com first brought its followers an exclusive 2-part interview with author and illustrator Gina Charles to discuss the themes around her own Shift and what inspired her to write her book.
In the interview, YoginiDeals.com asks Gina about her definition of Awakening. Gina Charles: "For me, Awakening is to become Aware. Awakening answers those 3 questions that I think we all ask ourselves at 1 point or another in our lives. Those are:

Who am I, really?
Where am I?
How does this place work?
Awakening isn't a goal, it's more of a journey, a process, a blossoming."
The full interview can be found on the YoginiDeals.com blog.
The exclusive deal posted this month (and ending December 31) includes Gina Charles' "Shift Happens - A Laypersons Guide to Awakening!" audio book read by the author herself, and ebook download bundle. As a bonus, Gina included a free digital pack of 42 Gina Charles Quote-pix. Each quote-pic is a memorable image with a powerful Gina Charles quote to help support readers in remembering what the soul already knows.
Here's what one reader states about the potential of this book:
"Simply put, the book is: easy and fun to read or listen to; simple - yet profound; a new way of looking at and synthesizing many metaphysical ideas into one powerful read. I have read many books and usually feel wiser, but the same. Now I am not only wiser, but different. A shift has happened and I will never be the same." –Cynthia
The book bundle deal ends December 31. Those seeking Enlightenment can find the deal on http://www.YoginiDeals.com.
Yoga and natural health enthusiasts can find deals on yoga pants, guided meditations and more and interact with other Yoginis via YoginiDeals.com on their blog and all major social media sites such as Facebook, YouTube, Pinterest, Google+ and Twitter.