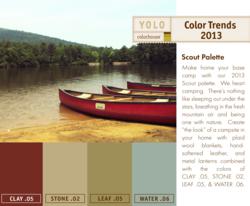 "2013 brings a merging of our ties with the past and the fast-paced future as we stay focused on the present," says Janie Lowe, co-founder of YOLO Colorhouse.

Portland, Oregon (PRWEB) October 10, 2012
With a finger on the pulse of the moment and an eye toward the future, YOLO Colorhouse, a boutique paint company dedicated to environmentally responsible living, is sharing three new color palettes for 2013 that reflect a contemporary spirit. YOLO's twelve hues in three palettes capture themes of today's lifestyle: urban aesthetic; reclaimed and repurposed living spaces; and the lure of the outdoors. The entire YOLO Colorhouse collection can be found online at yolocolorhouse.com and at homedepot.com and select paint stores.
"As we travel around the country, we notice different trends emerging," says Janie Lowe, co-founder of YOLO Colorhouse. "When we return to our studio, we interpret those trends using the language we know best -- color! These 2013 Color Trends interpret what's going on right now and what's just around the corner."
Metro Palette
Sophisticated with an urban aesthetic, the Metro palette pairs the golden tones of GRAIN .06 with the gray hues of STONE .07, STONE .04 and IMAGINE. This palette illustrates life on the fast track – from technology to trains – with a forward movement that is reminiscent of a big city experience.
Rustic Modern Palette
The Rustic Modern palette celebrates today's love of renovation with the allure of worn materials that bring a story to our crisp, contemporary living spaces. The warm whites of AIR .01 and AIR .03 complement the rustic elegance of reclaimed barn wood walls, a farmhouse kitchen sink or repurposed ceramic tiles. Bring subdued color to this natural palette with the richness of NOURISH .05 and the coolness of WATER .02.
Scout Palette
Today's quiet retreat is all about camping, sleeping under the stars or breathing in the fresh, crisp mountain air. YOLO Colorhouse's Scout palette brings the yearning for nature inside with a palette that creates the look of a campsite with CLAY .05, STONE .02, LEAF .05 and WATER .06.
To explore the 2013 trend palettes further and learn about the full range of product from YOLO Colorhouse, visit the company online and subscribe to the Colorhouse Field Guide blog.
YOLO Colorhouse
Entrepreneurial duo and self-confessed color nerds Virginia Young and Janie Lowe redefined the low-VOC paint category in 2005 with the launch of YOLO Colorhouse, a boutique paint company that proved that premium paint could smell good, look stunning and preserve the planet and human health. With its low odor, zero-VOC formula, and less-is-more approach to paint colors, YOLO Colorhouse's sustainable approach has won the respect of designers, architects, homeowners and environmentalists nationwide.