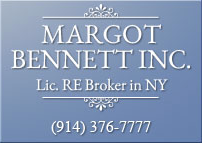 We have over 40 years' worth of experience in Hastings real estate and the property markets throughout Westchester County, the Hudson River towns and beyond
Yonkers, NY (PRWEB) December 18, 2012
Buyers and sellers of Yonkers real estate and properties in other Hudson River towns can now access a new online resource, MargotBennett.com. Built to serve as an easily accessible guide to the region's housing market, the site was recently launched by prominent local brokerage Margot Bennett, Inc.
"We have over 40 years' worth of experience in Hastings real estate and the property markets throughout Westchester County, the Hudson River towns and beyond," says founder and broker Margot Bennett, "and we wanted to share this with online users who are interested in buying or selling a home in the region."
MargotBennett.com features a customizable property search tool, extensive details on the firm's own listings, guides for buyers and sellers, real estate news updates and information, and more. It also boasts other online tools such as a mortgage calculator and provides details on the firm's preferred local partners.
"Whether you want to launch a search for Dobbs Ferry real estate or you need help determining whether it's the right time for you to sell your home in the area, it is our hope that our site will serve as a useful resource," says Bennett. "If you need more insights and in-depth information, please don't hesitate to get in touch with us anytime. We know how important personal service is in today's busy world. We made it through the '70s, the housing crisis of the '80s and '90s and we are here to help you make it through today's market."
Bennett heads a team of fulltime agents and has received multiple sales awards in the course of her distinguished, more than four decades long career in real estate. Her firm prides itself on providing hands-on service and has built a reputation for unparalleled professionalism.
For more information on their services and to learn more about the real estate markets in the area, visit http://www.MargotBennett.com or schedule a consultation with them directly today.