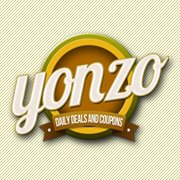 Yonzo.com, a New Daily Deal Site Like Groupon and Living Social, Launches in their Beta City: Tulsa, Oklahoma Save 50% - 90% on Shopping, Dining, Spa, Beauty, Travel, etc
Tulsa, OK (PRWEB) July 08, 2012
June 1st was an exciting day for consumers and businesses in Tulsa, Oklahoma: it was the day that Yonzo Daily Deals and Coupons (Yonzo.com) launched in Tulsa, their beta city. By simply providing their e-mail address, consumers were able to begin reaping the benefits of belonging to the newest and hottest daily deal site in the market.
Yonzo currently offers deals and coupons in the states of Missouri, Oklahoma, and Texas. Some of the deals that consumers have already gotten to take advantage of in the past two weeks:

$29.99 for a Steak and Shrimp Dinner for 2 at Silver Flame, a $60 value
$25 Express Detail Package from VIP Tulsa Detail, a $55 value
$23 Summer Anti-aging Spa Pedicure from b. jolie Salon and Spa, a $46 value
With Yonzo, consumers are able to try services and products that at radically discounted prices. Although there are immense benefits to consumers being able to afford to try new things an economy where everyone is playing it safe and spending their money on their tried-and-true standbys, there are also immense benefits to the businesses who offer the deals: getting consumers out of their "safety zone" and introducing them to what they have to offer in a risk-free way. Yonzo lets consumers stretch their dollars further and provides businesses with the introduction to new customers that they need to breathe new life into their business.
Yonzo offers more than just great savings: they also offer a great rewards program for those who sign up. When users refer friends to Yonzo or share daily deals on Twitter and Facebook, they are given points. As they accrue points, they are able to redeem them for prizes like gift cards and movie tickets.
Yonzo may be the new kid on the street, but they are quickly gaining a devoted following. Their early success in Tulsa is promising for consumers throughout the rest of the country, who can expect Yonzo in their hometown soon.
For more information about Yonzo Daily Deals, please visit http://Yonzo.com.
Find Yonzo Daily Deals on Facebook at https://www.facebook.com/yonzodeals.
Follow Yonzo Daily Deals on Twitter at http://Twitter.com/Yonzodeals