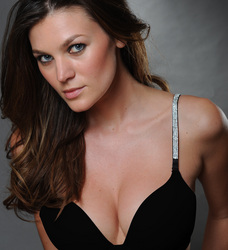 With Yoobies' patented technology, go from business hour to happy hour with the push of a button.
Irvine, CA (PRWEB) June 23, 2010
Fact: Every woman wants better boobs. Reality: Many products exist that offer either more lift, more cleavage, or more va-voom, but there hasn't been anything that lets women have it all. Until now...
Now, with Yoobies' patented technology, women can go from business hour to happy hour with the push of a button. Simply locate the small button on the outside edge of the cotton-covered pad and gently press. Watch the Yoobies inflate in just seconds. Too much va-voom? Press the same button while gently squeezing out the air.
For those women conscious about having different-sized breasts or post-mastectomy, Yoobies allow the wearer to choose how much air goes into each side. As light as air, Yoobies never weigh women down and are safe to wear in swimsuits.
Celebrities and costumers have already gotten wind of these new figure enhancers, and they are demanding more Yoobies. Look for them on "Hot In Cleveland," "Weeds" and many more upcoming movies and series.
Yoobies inserts, available in four sizes and two colors, will be available for $24 exclusively at yoobies.com starting July 5th. The Yoobies Bra ($69) will be available shortly thereafter and features special pockets that hold Yoobies in place.
Yoobies Inc. is a new company founded by a mom, two daughters (who are now moms themselves) and one of their sorority sisters. They are four women who love adventure and believe that women can truly have it all.
###