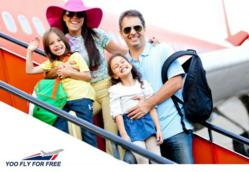 Planes can fly empty and still make a guaranteed profit for any destination point
Lagos, Nigeria (PRWEB) May 29, 2013
"This concept will revolutionize the travel and air industry in the years to come," said Wynand Wessels, CEO of YooFlyForFree Airlines, and he goes on to say, "Planes can fly empty and still make a guaranteed profit for any destination point".
Yoo Fly For Free Airline is a newly formed corporation with offices in Mauritius, South Africa and the United States and is a joint venture with Global Aviation. In combination with TopBookings and based on the innovation and insight of Wynand Wessels and Patrick Tuttle, both co-owners of the a new airline and TopBookings, "Yoo Fly For Free has been in development for over eight months and is now a reality," said: Mr. Wynand Wessles the CEO.
Mr. Tuttle pointed out, "The main routes Yoo Fly For Free will begin to accept memberships on, will be on a limited first come basis to:

Johannesburg to Cape Town and Cape Town to Johannesburg, coach seats only
Johannesburg to Durban and Durban to Johannesburg, coach seats only
Johannesburg to Lagos, Nigeria and Lagos to Johannesburg
Nonstop from Miami to Cape Town and Cape Town to Miami."
It is clear to note this is a airline membership program. As such, there are only so many seats that can be offered to public to assure everyone their opportunity to travel when they need to. This means that when all the seats are secured there would be no more availability until someone gave up a seat they previously owned the rights to.
Many airlines of all sizes are struggling with profitability even after the number of flights have been cut to increase the per flight occupancy. "Some airlines still are running with up to 30% or higher empty seats. It seems people are hearing about us already, " said Mr. Wessels, "as other airlines have already contacted us to consult with them or partner with them in a limited way to improve their profit bottom line."
The concept of Yoo Fly For Free is either a great idea and will help to change aviation as we know it on an international level or at best be a local hit for the routes it is scheduled for.
Can it really make a difference in the profit structure while provide cheap air travel? Can the idea of a membership airline catch on? Will people embrace the opportunity to fly when they wish for no extra cost over the membership fee? We will follow up and keep our readers informed as news breaks concerning the progress and challenges Yoo Fly For Free.
Lastly we were informed that one of the additional benefits of becoming a member of Yoo Fly For Free is the automatic membership in Topbookings Travel Club. TopBookings Travel Club TopBookings is a wholesale membership travel program for people who travel and would like to learn how to vacation for no cost. TopBookings has over 150,000 properties in over 142 countries and also offers Air and Car Hire booking engines as well. According to Mr. Tuttle, CEO, "TopBookings has been in development close to a year and a half and we are pleased it is ready to go in conjunction with Yoo Fly For Free. One of the unique features of TopBookings is that the company refuses to take booking commissions, from suppliers of product, to insure the best possible price they can get and pass that on to our members."
###
Yoo Fly For Free is a new airline servicing South Africa, Nigeria and Miami, Florida. It is a member based airlines and the members can fly on their specific route any time they wish for no additional cost. To learn more on how you can become a member or have Yoo Fly For Free consult with your airline for a white label solution please contact the media group.
For more information concerning Yoo Fly For Free, you can check them out at:
Yoo Fly For Free
http://prelaunch.yooflyforfree.com
9th Floor, Mindspace
Bhumi Park,
45 Ebene Cybercity
Port Louis, Mauritius
http://topbookings.co
Twitter: #yooflyforfree
https://www.facebook.com/pages/Yoo-Fly-For-Free-Airlines/275038839299069
Patrick (at) topbookings (dot) co
Wynand (at) yooflyforfree (dot) com
Patrick (at) yooflyforfree (dot)com