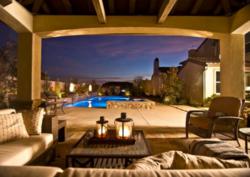 Yorba Linda, CA (PRWEB) July 10, 2011
Homeowners may have a vision for their yard – an enchanting garden, relaxing get-away, or a place to entertain guests, but completing the project seems overwhelming. That's why many homeowners choose to use a landscape designer. Their expertise and knowledge is invaluable in helping clients choose the right plants, fix problem areas, determine which materials and features will produce the desired look and feel a client wants, and help them stay within budget.
However, before choosing a landscape designer, homeowners will want to give careful thought how they want to use the area. Steven Luna, owner of Solage Landscape Exteriors, suggests homeowners take the following steps:
1 - The first step is to identify what purposes the landscape must achieve. For example, will the yard be used primarily for entertainment purposes, a play area for children and/or pets, aesthetic pleasure, or gardening?
2. Next, decide the style and theme. Homeowners should ask themselves if they prefer a formal or casual look; materials such as stone or brick; open or enclosed spaces; an English garden or a bold, modern look.
3. Consider the budget and time frame. A good landscape designer will work closely with their clients, listening to their needs and wants and work within a client's budget to help them see their dreams come true.
4. Think about what features are desired. Many options are available including a pool, spa, patio, outdoor kitchen and/or fireplace, pond, water features, and/or outdoor lighting. Consider which features are the most important and will fit into the budget.
5. Finally, choose a landscape designer. One of the best ways to select one is through recommendations from former clients. Ask for referrals. Be sure the company is licensed and fully insured.
Solage Landscape Exteriors meets the above criteria and offers a free consultation to discuss a client's vision, goals, preferences, concerns, and budget. To see samples of their work and customer testimonials, please visit their website at http://www.solageexteriors.com or their profile on BuildZoom.
About Solage Landscape Exteriors
Solage Landscape Exterior was founded in 2009 with a vision to provide Orange County with landscape design services that were unmatched in terms of customer satisfaction. Their attention to detail and focus on customer service have quickly earned them a reputation as one of the top landscape contractors in Orange County
###