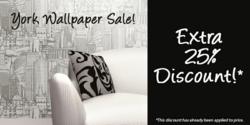 There is a special group of patterns at $8.99 a roll which is an extreme value for wallpaper of this quality.
Chattanooga, TN (PRWEB) August 31, 2012
Internet Wholesalers, Inc. today announces that they are offering an additional 25% off of already discounted prices on all York wallpaper patterns. York is well known for the quality of their wallpaper and designs. York's production facility is located in York, PA and they take pride in being a "green" company by offering eco-friendly wallpaper made from real materials found in nature such as leaves, sand, grasses, glass beads, and cork. York manufactures collections from well known designers such as Candice Olson, Stacy Garcia, Tommy Bahama, and Walt Disney.
Popular Designs from York
York is well known for its grasscloth wallpaper and this is a new design trend that is finding it's way onto walls in many new and redecorating projects. Grasscloth is made by weaving dried grasses together and it comes in textures from fine to coarse and in many different colors and patterns. Grasscloth is sold in pre-cut rolls and it creates a warm, interesting backdrop for many different types of decor. Its light or heavy texture is often used in offices because it is highly durable. Our offerings of York grasscloth wallpaper includes environmentally friendly patterns for both home and office.
Great Prices
Because of a special relationship between Wallpaper Wholesaler and York, deeper discounts can be extended to customers both online and in our showroom. "There is a special group of patterns at $8.99 a roll which is an extreme value for wallpaper of this quality," says Bill Light COO of Wallpaper Wholesaler. "Now anyone that wants to add some style and stay on or below a budget can wallpaper a typical room for under $100."
In addition to these everyday low prices, Wallpaper Wholesaler is please to extend a discount of 25% off all York wallpaper patterns that we offer except for the $8.99 collection. The Candice Olson Collection features a modern interpretation of classical design that is perfect for a veriety of interior spaces. The Tommy Bahama Home Collection sets the tone for a tropical and relaxed lifestyle. The Stacy Garcia Luxury Collection will infuse your home with a unique, inspiring and unexpected design. The Walt Disney Signature Collection was inspired by the classic films and features original artwork. Our York wallpaper catalog features all of these collections in addition to many others and are 25% off for a limited time.
About Wallpaper Wholesaler
Located in Chattanooga, TN Wallpaper Wholesaler has been offering the public wholesale pricing on wallpaper, blinds, and more for over 35 years. If you are in the are we invite you to visit our 7000 square foot showroom or visit us online at http://www.wallpaperwholesaler.com.