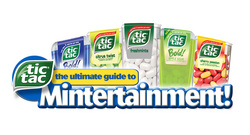 Casting a vote is easy. Just visit the Mintertainment.com website and register, view the 30 second videos, and click to vote
Somerset, NJ (PRWEB) June 24, 2008
The Tic Tac® Brand, which is offering $10,000 for America's best Tic Tac® Moment in a nationwide consumer video contest, is inviting friends, family and interested parties to help choose the Grand Prize winner now that online public voting has begun. The competing videos, which demonstrate a broad range of creativity and talent, can be found at http://www.Mintertainment.com. The contest winner will be selected on or about July 12th.
According to William Colvard, of Veux Marketing, which created and is implementing the promotion, entries will be judged by online public voting through July 3rd and 16 semi-finalists will be selected. Afterwards, a panel of judges will choose the $10,000 Grand Prize winner and contest finalists.
"Casting a vote is easy. Just visit the Mintertainment.com website and register, view the 30 second videos, and click to vote," added Colvard. Contest rules allow only one vote for a single video per email address. He said other prizes include a $1,500 Best Buy® gift card, a year's supply of movie passes, and a year's supply of Tic Tac® Mints.
The video contest picked up some star power recently at the MTV Movie Awards and the 'Deal or No Deal' Celebrity Golf Tournament in Hollywood. Voters are invited to view the celebrity Tic Tac® 'Moments' that have been posted with 'Deal or No Deal' host Howie Mandel, who chose his moment to autograph a box of Tic Tac® mints for charity and 'Deal or No Deal' models Patricia, Tameka, Anya and Pilar. Sharing their 'moments' at the MTV Awards were: John Salley (NBA Champion, 'The Best Damn Sports Show Period'), Danny Noriega ('American Idol'), Beverly Mitchell ('7th Heaven'), Mia Michaels and Brian Friedman ('So You Think You Think You Can Dance'), Omarosa ('The Apprentice'), Jodie Sweetin ('Full House'), Carmit Bachar ('The Pussycat Dolls'), Shar Jackson ('Moesha'), Nick Verreros ('Project Runway'), Josh Henderson ('Desperate Housewives'), Anna Maria Perez ('Hannah Montana'), Robin Coleman ('American Gladiator'), Michael Copon ('One Tree Hill', 'Power Rangers', 'The Scorpion King'), Kim Coles ('Living Single', 'Celebrity Fit Club'), Jonathan Lipnicki ('Jerry Maguire', 'Stuart Little'), and Stephen Richmond ('Everybody Hates Chris'). The unscripted celebrity Tic Tac® Moments, explained Colvard, are just for fun and are not part of the voting competition.
###