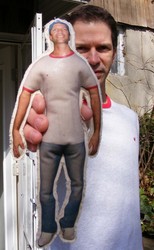 The stories I have heard about how these dolls have been used have been really heartwarming
Stony Brook, NY (PRWEB) March 26, 2009
In the Internet age, it's almost impossible to find a truly unique gift. Rare or unusual items that were once difficult to find in stores are now available to anyone in the world through an online retail or auction Web site. But people searching for a gift unlike any other now have a new hope -- the recently created You Doll.
The You Doll is exactly what it sounds like - a customized doll made to look like an individual. Anyone anywhere may send in a photograph of them self, a family member, a friend or even a pet and the experts at TheYouDoll.com will create a beautiful, lifelike, 12-inch tall, stuffed cloth doll from the picture.
While a few other places have tried to create personalized dolls, nobody has created a system quite like the You Doll. First off, the You Doll is not a likeness of an individual where someone tries to perform the impossible task of replicating specific features. The You Doll uses the actual image of the person, taken directly from the photograph to ensure complete accuracy.
Secondly, the You Doll is a durable, high-quality doll. Made using a heavyweight cloth, the three-dimensional doll is constructed completely of non-toxic materials and is hand washable.
But best yet, while other customized dolls can become quite pricey, the You Doll offers their personalized 12-inch cloth doll for just $19.95. Ordering is fast and easy, and customers receive their You Doll within 7-10 business days of sending their photograph.
The You Doll founder Peter Carnegie said, "We have heard back tremendous positive feedback from people who have purchased the dolls. People are thrilled when they realize how easily they can get a treasured unique gift such as the You Doll."
When Carnegie originally thought of the idea, he was working on a construction site in Long Island, New York. He knew there would be an interest from grandparents and mothers, but was nervous as to what his coworkers would think when they found out.
As it turns out, they ended up being his first customers.
"I figured my construction worker colleagues would be the last ones who would understand why I was pursuing this. But when I told them, not only did they immediately think it was a great idea, they ended up lining up to purchase one," Carnegie said.
Many people have shared their unique stories about their You Dolls and who they gave them to. People have given You Doll versions of them self to boyfriends or girlfriends to take to work. Others have created dolls of their children to give to grandparents or aunts and uncles. One couple made bride and groom dolls for their wedding. A few have even made dolls of their cars or motorcycles.
Carnegie said one of his favorite stories is from a father who gave his two-year-old daughter a doll of himself. "His wife told him the little girl carries it around all day until he gets home from work."
"The stories I have heard about how these dolls have been used have been really heartwarming," Carnegie said. "It seems like every day we are hearing new ways that this doll is bringing a smile to someone's face."
For more information, visit http://www.theyoudoll.com.
Contact
Peter Carnegie
peter(at)theyoudoll(dot)com
631-675-0290
###