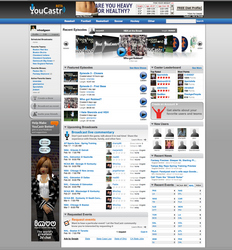 Boston, Mass. (PRWEB) February 20, 2008 -
YouCastr, the live Internet sports broadcasting network, today launches its interactive live sports broadcasting service. YouCastr allows anyone, anywhere to broadcast live sports commentary, creating more entertaining, interactive, and personal experiences for fans.
With YouCastr, anyone can become a sports broadcaster. On the simple, yet powerful website, users can easily broadcast live commentary on sporting events and create shows about their favorite local, high-school, college and pro teams. Unlike traditional radio and Internet streaming, YouCastr allows broadcasters and listeners to interact LIVE while simultaneously watching or listening to sporting events. Whether doing play-by-play for the local high-school basketball team, providing additional commentary for college or pro games, or discussing the most recent sports headlines, YouCastr has created a unique, globally scalable platform that has begun attracting sports fans around the world.
Supporting the launch, YouCastr is announcing a strategic partnership with the CSB School of Broadcasting (CSB). CSB, the industry leader in broadcast training, has partnered with YouCastr to provide CSB students and thousands of alumni across the US with a dynamic, interactive broadcasting platform. Eric Wholley, VP Marketing of CSB said, "Our partnership with YouCastr benefits our students and alumni by giving them a fun way to practice and build upon their broadcast training from CSB. As well, the YouCastr partnership will help greatly expand the audience populations for our aspiring and seasoned broadcasters alike. This is very good news for our 15,000+ graduates as well as our students at 21 campuses."
"We are excited to offer a compelling alternative to mainstream commentary," said Ariel Diaz, CEO of YouCastr. "The initial response from our hundreds of beta users has been overwhelmingly positive, indicating that sports fans have been looking for a more fun and interactive way to experience sports." Diaz adds, "We look forward to having new users try out our live sports broadcasting service. As we move forward, we will be constantly adding new features to make YouCastr the destination site for sports fans."
About CSB School of Broadcasting
CSB School of Broadcasting is a nationally-renown career college with locations in 21 major cities across the United States. Founded in 1964 as the Connecticut School of Broadcasting, today the School delivers the very latest practices and techniques in TV, Radio and Internet media. For more information on CSB, visit http://www.gocsb.com.
About YouCastr
YouCastr, the live Internet sports broadcasting network, is revolutionizing the way fans experience their favorite sports by building on new and emerging technologies to create a real-time, interactive, global sports broadcasting platform. YouCastr allows anyone, anywhere to broadcast live sports commentary and interact with other fans, creating a more personal and entertaining experience. For more information or to try YouCastr, visit http://www.youcastr.com.
Brad A. Johnson
YouCastr Corporation
617-818-8366
###