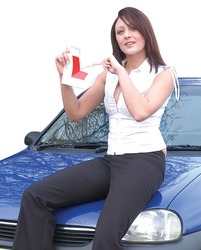 It's just crazy for youngsters (or their parents) to be spending that sort of cash on insurance
(PRWeb UK) December 8, 2009
Young drivers spend an average of £2,455 on car insurance, according to the latest research from gocompare.com. But there's absolutely no need for them to be spending that much, says leading car insurance broker Flux.
"It's just crazy for youngsters (or their parents) to be spending that sort of cash on insurance," says Gerry Bucke, operations director at Adrian Flux Insurance Services. "All it takes is a bit of common sense to cut the figure in half."
Flux is one of the UK's leading specialist car insurance providers. It has championed safer driving for young adults by offering big discounts for those taking their Pass Plus or a similar advanced skills course.
Here are a few common sense ways to cut insurance costs for young drivers:
1. Choose the right car. "This is absolutely rule number one and it's where lots of mistakes are made," says Bucke. Small and low-powered is the key – ideally the motor should be no bigger than 1,000cc. "Avoid larger motors and treat anything with the letters 'GTI' on the back as if it had the plague," he adds. A second hand car in decent condition with a one litre engine may well cost more than the 1600cc model. But the insurance savings will more than make up the difference. Plus, it'll be easier and safer for a new driver to control.
2. Take the Pass Plus course. In fact, book it as soon as the driving test itself is safely passed. These days most insurance companies will offer some sort of discount – Flux offers up to 30%. Visit http://www.passplus.org.uk for information.
3. Join an owner's club. Just about any make and model of car will have one. The cost of membership is likely to be minimal, but many insurers offer discounts simply for being a member – often the club itself will have an affiliation with an insurance company. Typically the discount will be 10 to 15%.
4. Take a limited mileage policy. An agreement to drive no more than, say, 5,000 miles a year could knock 10% or more off the cost of the premium.
5. Shop around. Call several insurers to compare quotes.
6. Don't rely on the internet. Searching online can be very effective, but beware of web quotes that seem too good to be true – check they are comparing like for like. (For example, check what the excess is). The best deals are usually to be had by talking to car insurance specialists on the phone.
7. Increase your excess. The excess is the amount of any claim that the policyholder pays before the insurance company starts to contribute. Typically the excess will be £100 to £250 – but it's possible to get much higher excesses, which will reduce the cost of the insurance.
8. Buy a classic car. It doesn't have to be that old a car – motors as young as ten years old could qualify. Classic car insurance is usually significantly cheaper than for a standard car.
Adrian Flux aims to offer cheaper car insurance and has a huge range of policies for the motoring enthusiast. For details contact the Adrian Flux quote line on 0800 081 8989, email the company at quotes(at)adrianflux(dot)co(dot)uk or see the Flux homepage on http://www.adrianflux.co.uk
Flux calls time on cost of young driver insurance - Dec-09
PRESS ENQUIRIES:
Toni Turner or Alison Haynes at The Publicity Works
Tel: 01263 761000
Email: flux(at)publicityworks(dot)biz
Gerry Bucke of Adrian Flux Insurance Services: 0800 081 8989
Editor's Notes
The research quoted was conducted by Gocompare.com. Click here for the original story or visit http://www.gocompare.com
###