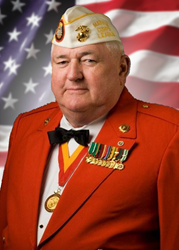 Over the years Jim Laskey has poured his heart and soul into supporting our Young Marines at every level. As the commandant of the Marine Corps League, he embraced our members, attended our events and participated in our activities.
Washington D.C. (PRWEB) October 05, 2015
The members of the board of directors of the Young Marines, a national youth organization, announce a new board member - James R. Laskey, the Marine Corps League Liaison.
"I have had the pleasure of knowing Jim Laskey since I first came on board as the director of the Young Marines 16 years ago," said Mike Kessler, national executive director and CEO of the Young Marines. "Over the years he has poured his heart and soul into supporting our Young Marines at every level. As the commandant of the Marine Corps League, he embraced our members, attended our events and participated in our activities. The league made a great choice in recommending Jim as our liaison."
Laskey enlisted in the United States Marine Corps in June, 1960, in Boston Massachusetts. Following completion of recruit training in Parris Island, South Carolina, and Advanced Infantry training, he was assigned to "Sea School" in Portsmouth, Virginia.
He remained on sea duty from 1960 through 1962, serving aboard the USS Lake Champlain for recovery operations for Commander Alan Sheppard's first US manned flight into outer space and later aboard the USS Essex during the Cuba Blockade in 1961.
Other Marine Corps assignments include: Platoon Sergeant, Security Platoon, Headquarters Company; Seventh Marines, Chu Lai, South Vietnam and First Marine Division, operational deployment casualty field reporter for the remainder of his tour in the Republic of South Vietnam. Upon his return to the United States in 1967, Laskey was assigned Recruiting Duties and ended his tour as a Non-Commissioned Officer in charge of Recruiting Station in Quincy, Massachusetts.
After his transfer from independent duty, he served in various capacities in the Military Police and Correctional Field. He was the Correctional Facility Warden, Marine Barracks, Pearl Harbor, Hawaii, and he served in a number of positions during his two tours at the United States Naval Disciplinary Command in Portsmouth, New Hampshire. He retired a First Sergeant after 20 years of service with the United States Marine Corps, completing his final tour of duty at the Marine Corps Officer's Candidate School in May, 1980, at Quantico, Virginia.
His personal awards include the Naval Commendation Medal, Naval Achievement Medal, Combat Action Ribbon, Good Conduct Medal with Silver Star and Marine Corps competitive Marksmanship Rifle and Pistol badges.
Since 1968, Laskey has been a member of the Marine Corps League. He has held every elected office within the William R. Caddy Detachment in Quincy, Massachusetts. In addition, he served two terms as Massachusetts Department Commandant.
He was elected and went on to serve two tours as Assistant New England Division Commandant. He was elected twice as the National Division Vice Commandant for New England. Further elections include the National Junior Vice Commandant and the National Senior Vice Commandant. Laskey served as the National Commandant from 2008 through 2010.
In 2000, Laskey was named as the Department of Massachusetts Marine of the Year, and in 2009. he was named the New England Division Marine of the Year.
He has also received numerous league awards, which include the Distinguished Citizen Gold, Silver and Bronze medals. He is a member of the Marine Corps Association, the VFW and the American Legion.
"I have watched the Young Marine program grow over the last 16 years," Laskey said. "The adult leaders never cease to amaze me. Because those adult leaders have such a love of the program, they go above and beyond day in and day out, instilling unlimited enthusiasm and motivation in their Young Marines units.
"Because of that hard work, these Young Marines find out that they can accomplish feats that only a short time before they would never dared to try. Building confidence is such a great teacher. I salute this new generation, the ideals they stand for and the young men and women they will become."
Currently, Laskey serves as a member of the Past National Commandant Council. He also served for eight years as director and vice president on the board of the Marine Corps League Foundation.
He is married to the former Therese Maynard of Providence Rhode Island. They currently reside in Cumberland, Rhode Island.
"Jim Laskey is well known by our Young Marine leadership," said William L. Smith, chair of the board of directors of the Young Marines. "He has been an avid supporter of our program for many years. He is not only a retired Marine First Sergeant with a superb record of service, he is also a former past National Commandant of the Marine Corps League, a leadership position equivalent to a chairman of a board of directors. He brings tremendous experience, gravitas and boundless enthusiasm. Jim is an exciting addition to our board."
The Young Marines is a national non-profit 501c(3) youth education and service program for boys and girls, age eight through the completion of high school. The Young Marines promotes the mental, moral and physical development of its members. The program focuses on teaching the values of leadership, teamwork and self-discipline, so its members can live and promote a healthy, drug-free lifestyle.
Since the Young Marines' humble beginnings in 1959 with one unit and a handful of boys, the organization has grown to 280 units with 7,000 youth and 2,500 adult volunteers in 40 states, the District of Columbia and Okinawa with affiliates in other countries.
For more information, visit the official website at: http://www.YoungMarines.com.