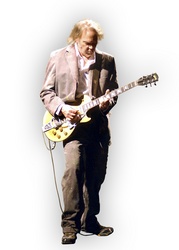 The Blu-ray format offers superior audio and video quality and, through Java technology, gives the viewer sophisticated ways of interacting with the content. Sun is thrilled to be working with Neil Young on what will surely be the most innovative release of any artist's material and the start of a new genre of content
SAN FRANCISCO (PRWEB) May 6, 2008
Neil Young's exciting project ties to this year's Conference theme of "Java + You" by highlighting the role Java technology plays in delivering dynamic content, sophisticated services and application mashups across consumer devices. Today, Java technology is the most widely adopted runtime in the world and is now powering compelling content and rich end-user experiences across all the "screens of your life" on billions of devices - from desktop browsers and computers (800,000) and mobile phones (more than 2 billion) to TVs, Blu-ray Disc players and other connected consumer devices.
More than 15 years in the making, the Neil Young Archive will be a complete biography of the artist's career in a timeline format including a chronology of songs released and unreleased. Through Blu-ray and Java technology, for the first time viewers will be able to navigate through Young's music, movies, videos, personal archives, memorabilia, photographs, letters, handwritten manuscripts and more while the high resolution 192/24 audio is playing, giving a chronological insight into the creative process and an opportunity to bear witness to the evolution of Neil Young's musical soul over the course of his life and work.
The Blu-ray format delivers both unsurpassed 192/24 audio quality and high definition video, capturing the quality of the original analog master recordings in the best digital format available today. The first Neil Young Archive release will be a 10 Blu-ray Disc set available this fall from Reprise/Warner Bros. Records, covering Young's career from 1963-1972.
"Previously, there was no way to browse archival material on a Disc and listen to a song in high resolution at the same time. The technology had not yet evolved to that capability," said Young. "It is important for me that the user experience the high resolution music along with the archival visual material. Previous technology required unacceptable quality compromises. I am glad we waited and got it right. And here is something really new, we will be able to add content to already released Blu-ray Disc archive volumes by downloading it, whether it is music, film or vintage recording sessions, recently found photographs, or other archival materials that were located after the release of that volume. Users will be able to download any of these archival materials and they will automatically be assigned to their place in the Chronology timeline."
"The Blu-ray format offers superior audio and video quality and, through Java technology, gives the viewer sophisticated ways of interacting with the content. Sun is thrilled to be working with Neil Young on what will surely be the most innovative release of any artist's material and the start of a new genre of content," said Schwartz. "Through Blu-ray and Java technology, the Neil Young Archive will create a more immersive experience for the viewer and a truly unique experience for his millions of fans around the world."
Java technology, which is the underlying platform for the new BD-Live capabilities of the Blu-ray format, enables interactive components as well as the ability to update all aspects of a Blu-ray Disc via BD-Live Internet connectivity. For the Neil Young Archive discs this could potentially include content updates such as music, film, adding new photos and providing tour information. It could also provide the ability to support dynamic fan community features such as message boards, concert reviews or even enable fans to use a BD-Live donation mechanism to help support the Bridge School (http://www.bridgeschool.org/). The Bridge School is a non-profit organization whose mission is to ensure that individuals with severe speech and physical impairments achieve full participation in their communities through the use of augmentative and alternative means of communication and assistive technology applications.
java.com will be featuring the work with Neil Young and the archive project in a special Java + Neil Young segment. Java + Neil Young will include links to Young's appearance at JavaOne, as well as links to more information about the upcoming Blu-ray Disc package.
About Sun Microsystems, Inc.
Sun Microsystems develops the technologies that power the global marketplace. Guided by a singular vision -- "The Network Is The Computer"(TM) -- Sun drives network participation through shared innovation, community development and open source leadership. Sun can be found in more than 100 countries and on the Web at http://sun.com.
Sun, Sun Microsystems, the Sun logo, Java, JavaOne and The Network Is The Computer are trademarks or registered trademarks of Sun Microsystems, Inc. in the United States and other countries.