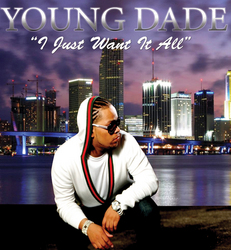 It's refreshing to see an emcee slash singer come to the table with a true sense of balance in today's hip-hop and R&B pop-merger. When I reviewed Young Dade's EP to hopefully find a focus track, I was surprised to find myself debating on which track to
Miami, FL (PRWEB) April 26, 2011
After a brief hiatus, Miami based record label Black Wolf Records resurrects with some serious Miami Heat by signing Young Dade for the long haul. David Fredericks (a.k.a. Young Dade), with a family tree rooted in the entertainment industry, has been bred with true natural talent. Young Dade's urge in recording music stemmed from his passion in performing dance that ultimately led him to taste the microphone - and as they say, the rest is history.
Undoubtedly, the Miami music scene continues to be one of the most popular destinations for nightlife entertainment, in which Young Dade begins to contribute his talent to, bringing an eclectic mix of mainstream hip-hop and R&B flavors through club banging anthems, infectious beats, clever hooks and quick rhymes. His debut single 'Cash Flo' off of the up and coming EP release titled 'I Just Want It All' has raised eyebrows amongst the music industry by way of airing on popular mainstream station WEDR 99 Jamz, with additional stations following his buzz. Music industry vet Joshua East, mentions "It's refreshing to see an emcee slash singer come to the table with a true sense of balance in today's hip-hop and R&B pop-merger. When I reviewed Young Dade's EP to hopefully find a focus track, I was surprised to find myself debating on which track to choose."
As the lead single by Young Dade, 'Cash Flo' delivers that fresh spring cleaning energy that will last throughout the summer heat, motivating those with their back up against the wall to get on the dance floor. Other tracks like 'Get Your Number' speaks to the forgotten nostalgia of getting the phone number of someone you are interested in and 'Money Long,' a fantasy song about the position many want to be in financially and being smart about it so that it will last; 'Before I Go Away' address the list of things that he wants to do and accomplish before he leaves this earth.
About Black Wolf Records
Black Wolf Records is an independent label that is headquartered in Miami, Florida. Formed in 2005, Black Wolf's first reggae artist Wanted made his presence onto the scene in 2008. The label has just recently signed David Frederick (AKA Young Dade) who is an emerging hip-hop artist. He has already created quite a buzz in the Miami music market.
About Young Dade
One listen to emerging artist Young Dave and you will see why he has the music industry talking about him. Paving the way for his musical destiny, Young Dave truly represents a new generation of hip hop artists that are setting a new tone in South Florida. Fueled with his innate gift as a prolific wordsmith and his innovative free flowing vibe, Young Dade breaks all the rules. Hungry and driven, his stand out delivery that features his flawless rhymes can be heard on his current single 'Cash Flow.' His infectious flow is woven into his creations and he is able to pour passion and conviction into whatever he raps about. Young Dade's relentless drive for a higher creative ground is what contributes to his ever-expanding success.
###