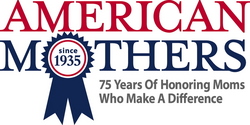 This award is a huge honor for me and my family.
Alexandria, Virginia (Vocus) May 6, 2010
Celebrating its rich and eventful history, American Mothers, Inc.® announced the 75th Mother and Young Mother of the Year®. The event was held at the Waldorf=Astoria in New York City, the same location where President Franklin Delano Roosevelt's mother, Sara Delano Roosevelt, presented the first award in 1935.
The 2010 winners were: Dianne Callister, 2010 Mother of the Year, and Sheri Carlstrom, 2010 Young Mother of the Year.
Dianne Callister of California was born in a Salvation Army hospital and spent a brief time in foster care, before being adopted. Dianne has been married twenty-five years to her husband, Steve. Together, they have raised four children, and just recently welcomed the addition of their first grandchild. Dianne has served on multiple PTA boards, founded White Wings and Silver Strings non-profit organizations, and created a program called Project GIVE, which educates and funds student-driven service for middle-school students nationwide. She currently serves as President and Executive Director of The Singer Foundation, which provides monetary support to programs impacting children internationally.
When asked about being recognized as 2010 Mother of the Year, Callister struggled to hold back her excitement. ''This award is a huge honor for me and my family. It means the world to all of us,'' stated Callister.
Sheri Carlstrom of Indiana born in Duluth, MN, lived in Michigan, and now resides in Fort Wayne, IN. While living in Minneapolis, MN, Sheri met her husband Kevin. Sheri and Kevin have since been married for nineteen years and have four children. Sheri has been involved with Mothers of Preschools, International as a young mother, a leader, and a Mentor Mom. She currently spends her time as the Communications Director of Sonrise Church, co-owning a small business with her sister, writing a blog, all while finding time to drive her children to and from their activities.
When reached for comment about the award, Carlstrom was very appreciative. ''I enjoy spending my time with my family and community more than anything. I am very humbled by the award and honored to represent young mothers this year,'' said Carlstrom.
The National Convention is a two-day celebration that began on April 30. During the convention, members from across the country gathered and recognized mothers for parenting abilities.
"American Mothers was thrilled to announce the Mother and Young Mother of the Year for 2010 at the Waldorf Astoria in New York City on May 1st. What is most exciting about this honor is these mothers represent the millions of American women who embrace the role of mother each day," stated American Mothers, Inc President, Deanne Taylor.
The leadership provided at this convention will train mothers to become a better influence in their communities and empower them to help other mothers reach, teach and honor.
American Mothers, Inc. is an interfaith, non-political, non-profit organization for women and men who recognize the important role of motherhood through educational programs and community outreach. American Mothers, Inc is the official sponsor of Mother's Day. It is also the organization responsible for annually selecting the National Mother of the Year and Young Mother from candidates across the United States, District of Columbia and Puerto Rico. To learn more, visit http://www.AmericanMothers.org.
###