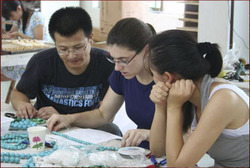 Knoxville, TN (PRWEB) January 6, 2009
Tennessee native Elizabeth Rowland returns from China as a young entrepreneur in international trade, establishing a new forum for artists to sell their creative works online. Officially launched in December 2008, the forum, AbellaGalleries.com, now features an inaugural line of custom-designed white stone and turquoise beaded jewelry by Rowland herself with work by other artists soon to follow.
Rowland conceived Abella Galleries in May 2007 while taking a break from her Chinese language studies in Shanghai, China. While exploring Beijing, she discovered a small turquoise jewelry booth covered from floor to ceiling with gorgeous, vibrantly colored blue and green turquoise beads. Immediately enamored with the beautiful beads, Rowland decided that she had to share them with others.
Throughout the rest of 2007, Rowland traveled across southern China visiting bead factories, training assembly workers, researching U.S. and Chinese trade and customs law, and progressively developing a vision for her future jewelry business.
After months of development, Rowland's website for selling her own turquoise necklace designs transformed into a collaborative gallery incorporating other artists who might not have the time or resources to develop their own online presence.
In the coming months, Abella Galleries plans to add colorful freshwater pearl necklaces by Rowland as well as silver jewelry by a Nashville-based silversmith and elegant bridal accessories by an artist living in Jacksonville, Florida.
Rowland continually seeks out new artists to feature in the Gallery - jewelry designers, painters, photographers, sculptors, fashion designers, or artists of any other medium with beautiful works to offer. Abella Galleries also hopes to expand internationally by exhibiting the creations of artists from Mexico, China, and beyond.
For further information on Abella Galleries and its white stone and turquoise beaded jewelry or for inquiries by artists interested in being featured in Abella Galleries, visit Abella Galleries online or contact Elizabeth Rowland.
###